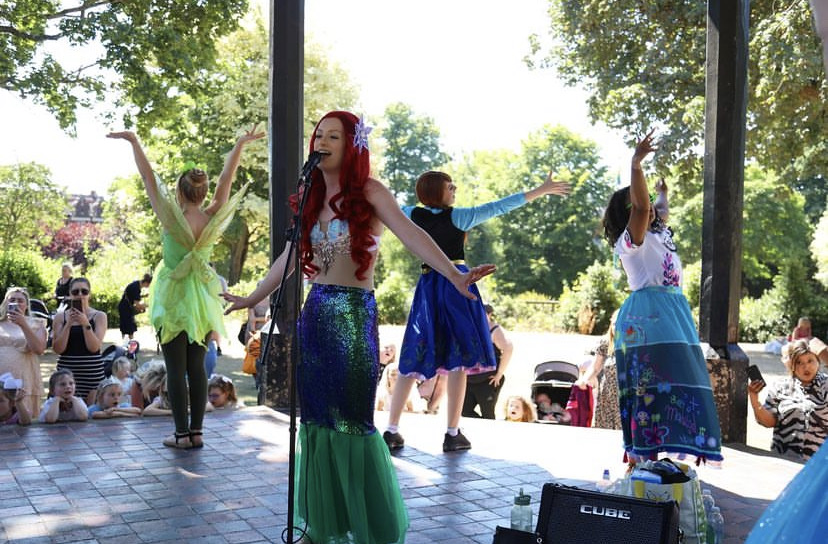 Music has always been a core part of Princess Anna's life; from starring in musical theatre shows throughout high school and university, to performing and releasing music as a solo singer-songwriter, singing and performing on stage has always been her absolute dream.
Singing + Entertaining = Princess Anna's Dream Job
When she started working as a children's entertainer in 2017, she was able to combine her passion for singing with her love of fairy tales and Princess films to create her absolute dream job! Then in 2022, Princess Anna became Snow Princess Parties' Director of Hampshire, and began to build her own little kingdom alongside her fellow princesses!
Anna has created magical memories for hundreds of children on their special days over the years. One of her favourite parts of the job is still the moments when she gets to sing to them as their favourite fairy tale character! She simply adores hearing children singing back to their favourite songs and dancing along with her, whether she is a mermaid wishing to be part of the human world, or a Snow Queen letting go!
Stunning reviews
It's such a magical moment when party guests realise that it's actually Princess Anna singing live and not miming! Hearing compliments always fills her heart with joy, such as this snippet from one of her most treasured customer reviews:
"Anna is also an outstanding singer and executed all of the high notes perfectly whilst singing "Let It Go" whilst engaging the children as they joined in. All too often I have been to parties where Queen Elsa cannot sing well or at all, but Anna impressed everyone with her musical talents."
If you live in Hampshire and would love for your child to hear their favourite Princess singing to them on their birthday as part of our action-packed and fun-filled party packages, please contact Princess Anna today by emailing her at anna@snowprincess.co.uk or filling out our booking enquiry form.
Instagram
[fts_instagram instagram_id=17841414053686335 access_token=IGQVJVUjA0QmUzSjJlM19Kc2NMVWVYRE1WbFdFZAmpEaTZAUVlVZAbFR5bHdyUFBSdlBkQmNybGdqWktfREpFRnJ1aS1zcnlKeVdaeGtOUXFGaXdPa2lfQ3FVbEdRYk5yVEZA3UGM0ZAkJR pics_count=6 type=basic popup=no super_gallery=yes columns=3 force_columns=no space_between_photos=1px icon_size=65px hide_date_likes_comments=no]
Burnham princess parade, princess show at Burnham park hall, free princess show, princess event, the princess parade at Burnham, princess parade, Burnham Park hall singing princesses