Our Kent princesses and superheroes provide action-packed, fun-fueled games and entertainment to children's parties in areas surrounding; Maidstone, Medway, Tonbridge, Gravesham, Dartford, Swale, Sevenoaks and Ashford.
With a sprinkle of magic we'll be sure to bring fairy-tale characters to life with music, singing, dancing, an array of colourful costumes!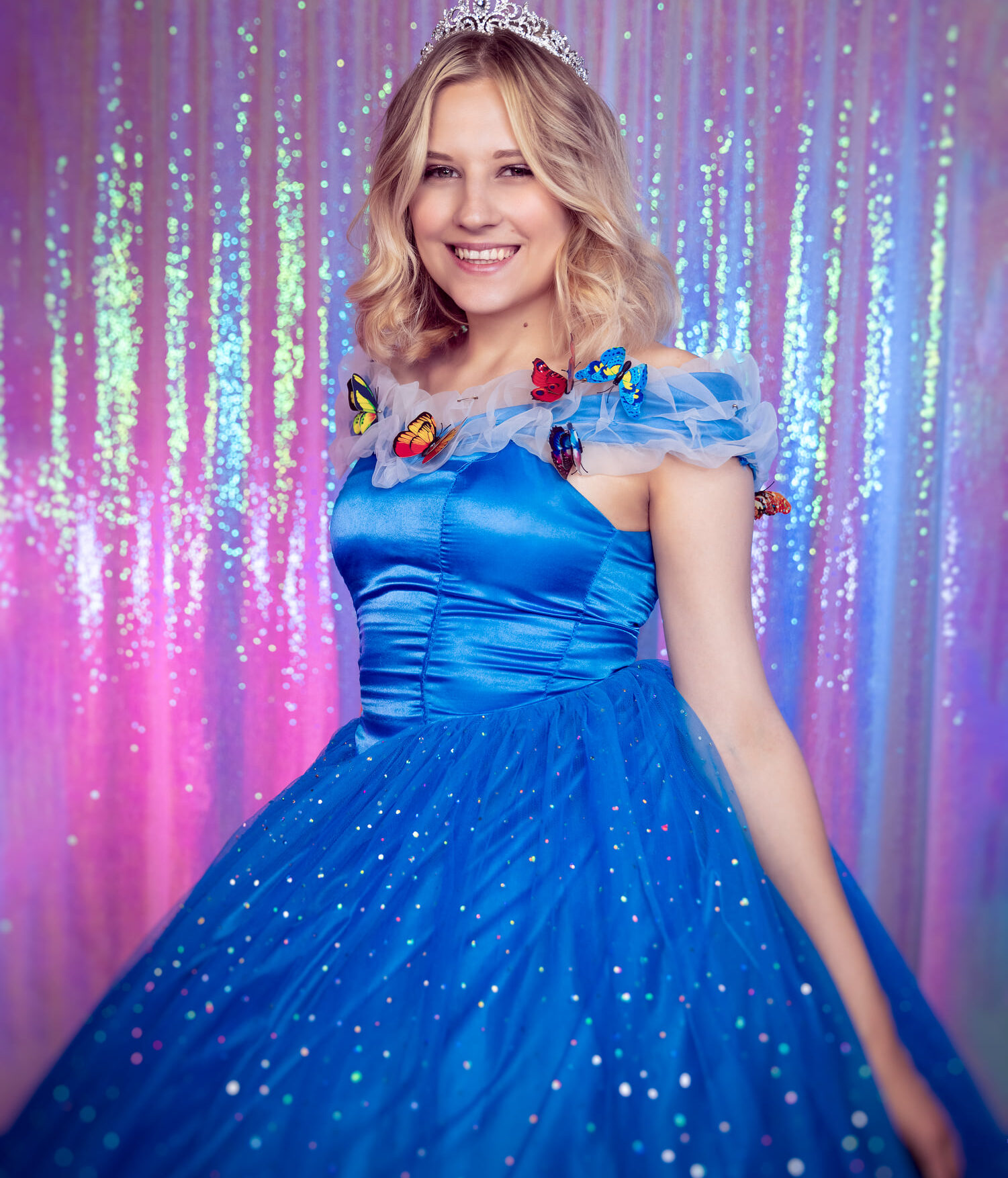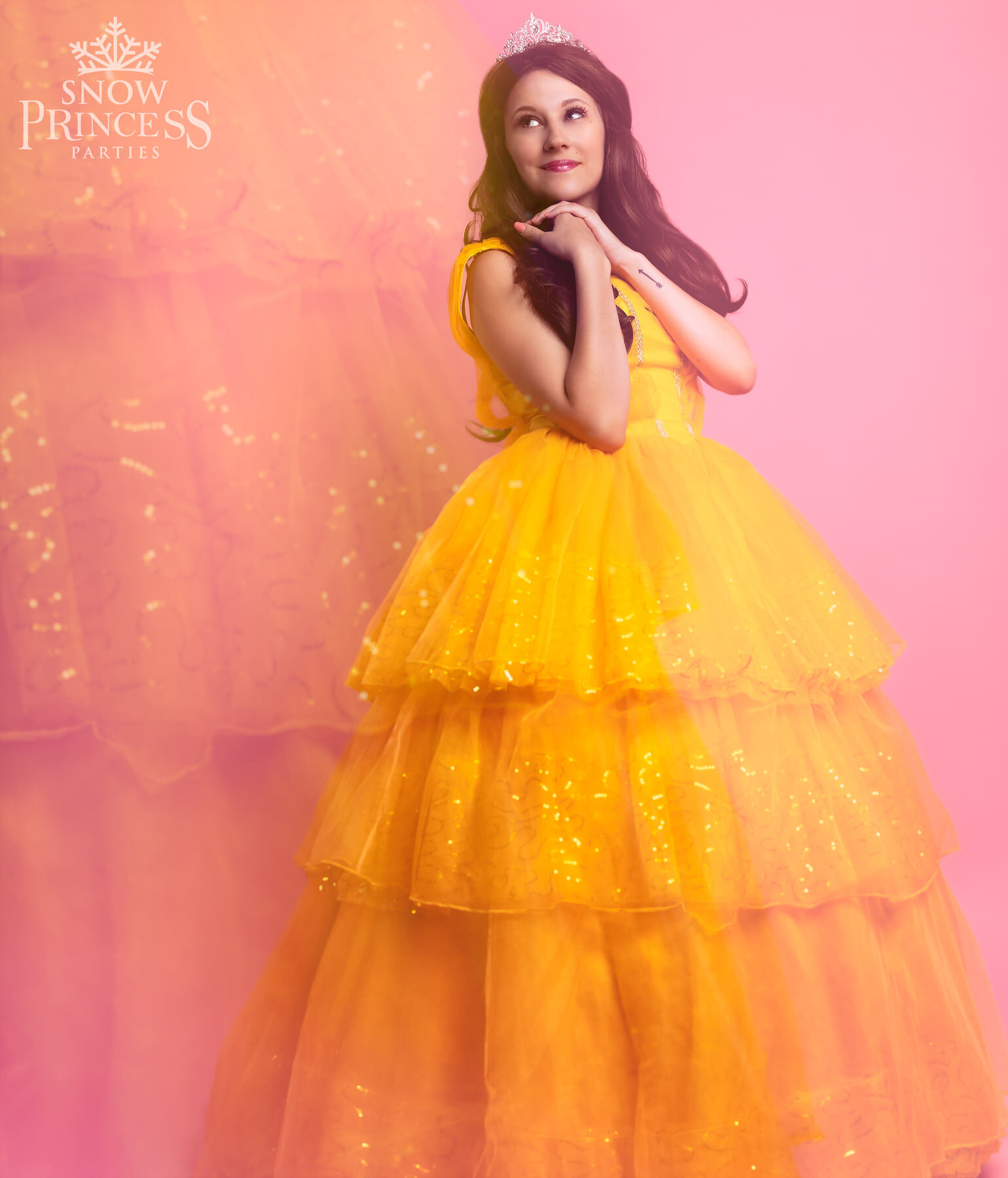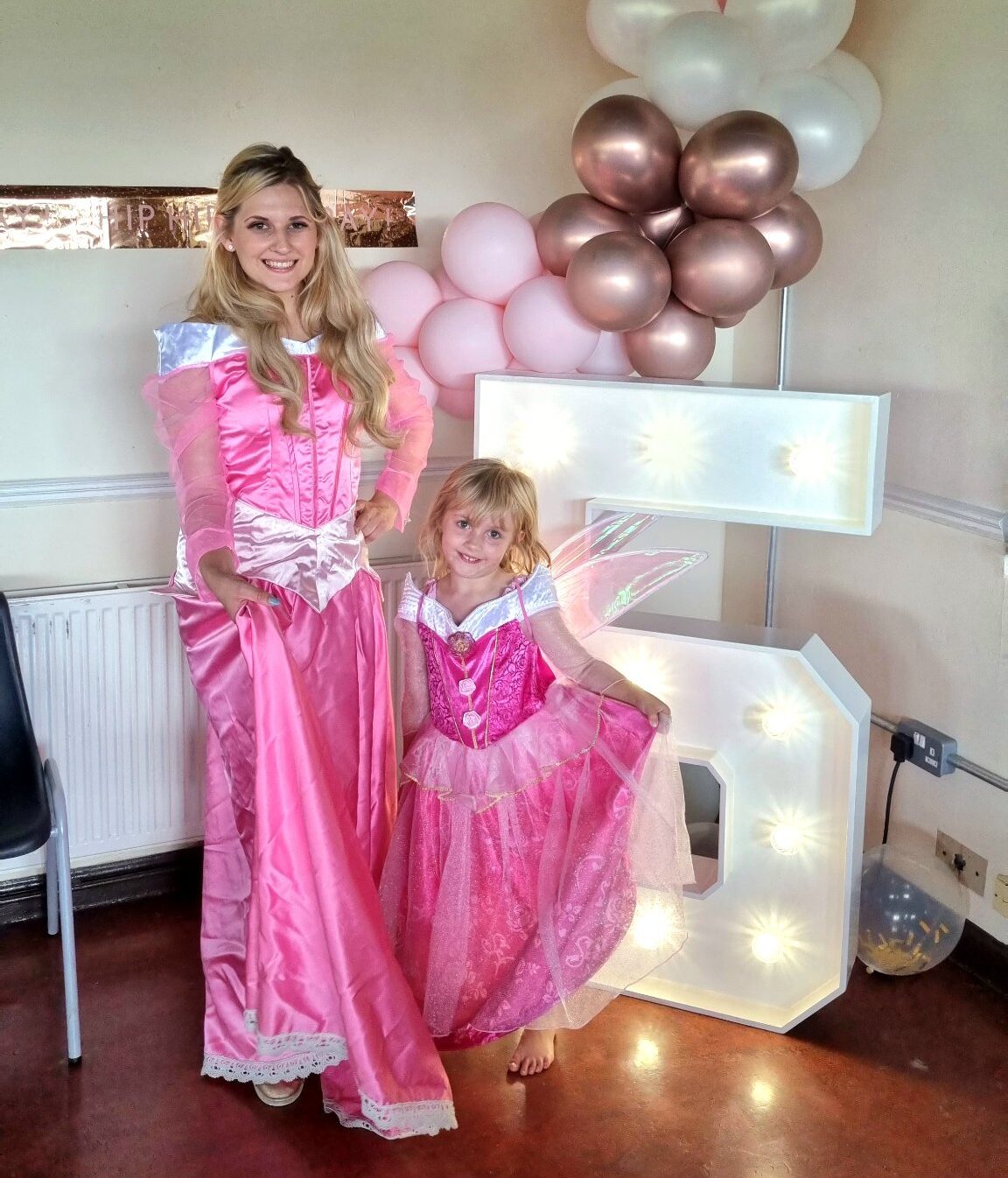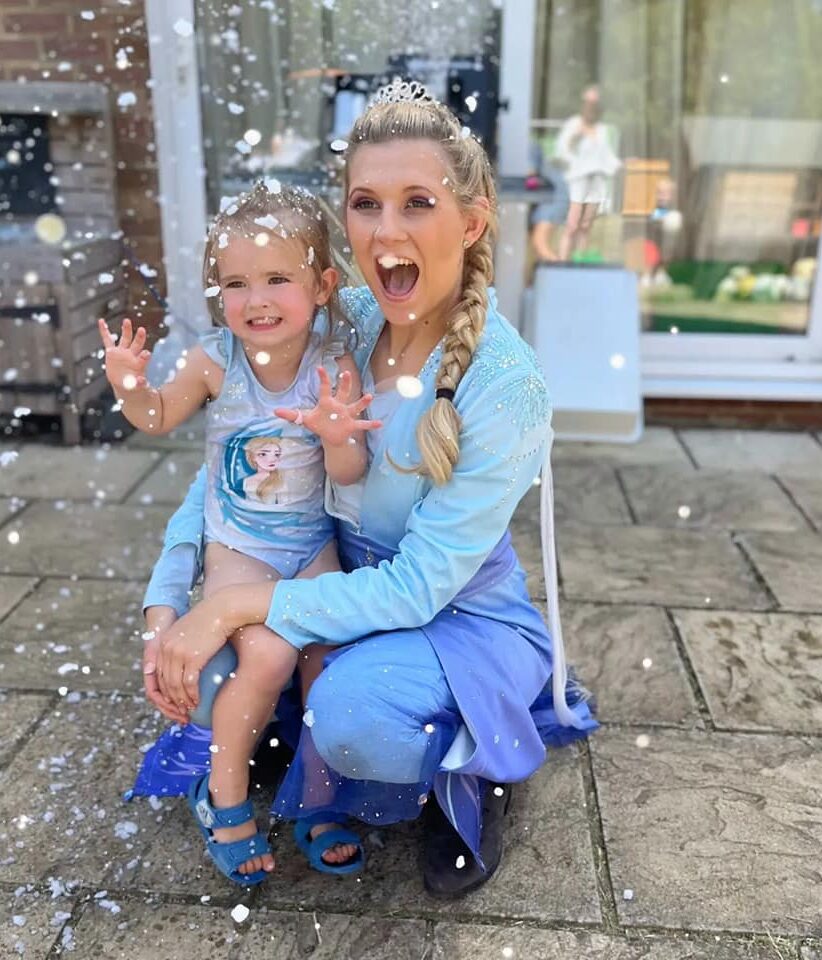 Hello Mums, Dads, Guardians, and Grandparents!
My name is Kelsey, and I'm the Director of our Kent region, and I'll be delighted to help you with your princess party experience.
Growing up, I adored dressing up in anything sparkly… little me would be astounded that my job is now to dress up as a princess at kids' birthday parties. It's a dream come true!
What I love the most is the sheer excitement children get in their eyes when they first see me walk into a party.
With a love for all things storytelling, I have a degree in Television Production. I've worked with kids for as long as I can remember, first as a brownie leader, and worked with young actors on film sets. I'm always blown away by their passion, talent, and belief that magical things can happen.
If you'd like to book a party or have any questions, just give Kelsey a call on 07933206922, email or fill in our enquiry form below.


"The best decision we made"
I cannot recommend Princess Kelsey highly enough, we had our concerns from whether or not she would be convincing enough and whether or not she could keep the children engaged, to our biggest worry of our 5 yr old daughter or one of her friends saying something like 'you're not the real Elsa' As soon as Elsa arrived and had a private introduction with our daughter and presented her with her special gift (which was no cheap plastic rubbish either) all our concerns disappeared. Convincing, professional, charming and had all the children's attention from minute one. The games were so much fun and even the adults were dancing around at one point. If you are thinking about hiring Princess Kelsey do not hesitate, she is worth every penny and some more.
"They made sure all the children (and parents!) had an excellent time"
We found Princess Snow Parties (Kent) online and had the lovely Kesley and Izzy as Cinderella and Belle for a joint 5th birthday party.
Kesley and Izzy were both absolutely fantastic, they made sure all the children (and parents!) had an excellent time. Both Kesley and Izzy helped make the children feel comfortable, they got everyone involved and kept everyone entertained for the whole party. The kids absolutely loved all the games!
Kesley organised our booking , from the start she was lovely, really easy to talk to, professional and made sure we had everything covered so that it was a magical day for the birthday girls.
I would highly recommend!
Thank you!
"Absolutely fantastic children's entertainment"
Kelsey was absolutely brilliant as Elsa at our 3 year old's party this weekend. She had all the children captivated from the moment the party started. We loved the involvement of parents in the games too – lots of fun! The games were very cleverly linked to the Frozen theme. Excellent and highly recommended.




Meet the Kent team

Our Izzy is Kent's singing superstar. Currently training in musical theatre at Reynolds performing arts College, we know her future is leading her onto the big stage!
Confident, bubbly, and can always be found with smile, Izzy bring beaming energy to every character she plays – from pirates, to princesses to fairies. She can play just about anything!

Caitlin is fun, dynamic and is always up for a princess twirl! With a background in dancing, you'll often find Caitlin by Maidstone's Hazlitt theatre performing in shows.
Caitlin is incredibly gentle, with a warm and welcoming smile to make the shyest children feel at ease. The perfect fit to be a princess entertainer!

Our all-smiling Zoe will wow you away at any party, or event. Trained in special effects makeup, Zoe knows how to make an impression with a full glamorous look.
Zoe can do it all; face paint, sing, and of course… dance! She has endless bounds of energy at every party she attends!
To book a party just give Kelsey a call on 07933206922, or fill in our enquiry form below.
We look forward to making your party a special day to remember!

Booking Form
Mermaid princess hire Medway. Mermaid hire Kent. Best Ariel entertainer Maidstone. Best Ariel entertainer Tonbridge. Mermaid entertainer Tunbridge wells. Kent Mermaid to hire. Kent mermaid entertainers. Princess party mermaid Malling. Mermaid hire in Maidstone. Princess Parties Maidstone. Princess Parties Kent. Princess Parties Medway. Princess party Tonbridge. Princess Parties Dartford. Princess party Tunbridge Wells. Princess Parties Ashford. Princess Parties Malling. Bearstead. Snodland. Princess Party Bearstead. Princess Party Rainham. Princess Party Rochester. Princess Party Halling. Princess Party Isle of Sheppy. Princess Party Gravesend. Princess Party Northfleet. Princess Party Strood. Princess Party Barming. Princess Party Larkfield. Princess Party Alyseford. Princess Party Swale.
Children's Entertainer Kent. Children's Entertainer Malling. Children's Entertainer Rochester. Children's Entertainer Tunbridge Wells. Children's Entertainer Tonbridge. Children's Entertainer Medway. Children's Entertainer Rochester. Children's Entertainer Gravesend. Children's Entertainer Northfleet. Children's Entertainer Strood. Children's Entertainer Gravesend. Children's Entertainer Sittingbourne. Children's Entertainer Isle of Sheppy. Children's Entertainer Rainham. Children's Entertainer Halling. Children's Entertainer Barming. Children's Entertainer Larkfield. Children's Entertainer Aylesford. Children's entertainer Ditton. Entertainer Downswood. Children's Entertainer Coxheath.
Elsa Princess Party Kent. Elsa party Medway. Elsa party Malling. Elsa party Tonbridge. Elsa party Tunbridge wells. Elsa party Dartford. Elsa party Ashford. Elsa party Larkfield. Elsa party Gravesend. Elsa party Swale. Frozen Princess Entertainer near me. Children's Entertainer. Kids birthday party Kent. Children's Party Princess. Princess hire near me. Elsa Princess character hire. Mermaid birthday party. Mermaid entertainer hire Kent. Mermaid Princess party Kent. Mermaid party Kent. Mermaid party Malling. Mermaid Party Sevenoaks.
Mermaid party Gravesend. Mermaid party Tunbridge Wells. Mermaid party Tonbridge. Mermaid party Rochester. Mermaid party Walderslade. Maidstone Princess Party. Malling Princess party. Princess party entertainer hire Kent. Princess party. Kids party ideas. Kids party ideas Kent. Unicorn theme kids entertainer. Unicorn party Kent. Barbire party Kent. Barbie party near Maidstone. Barbie party Dartford. Barbie party Sevenoaks. Barbie party Medway. Barbie party Rainham. Barbie party Rochester. Barie part Isle of Sheppy. Barbie party west Swale. Barbie party Ashford. Encanto party hire. Encanto party Kent. Encanto part Maidstone. Encanto party Medway. Encanto party Malling. Encanto party Tunbridge Wells. Encanto part Tonbridge. Encanto party Dartford. encanto party Ashford. .Princess party entertainer. Kids birthday party Kent. Kids party entertainer. Frozen party entertainer Kent. Princess lookalike. Princess singing entertainer. the little mermaid party. the little mermais party Kent.
Rapunzel princess Party Kent. Rapunzel Princess Entertainer Maidstone. Rapunzel Princess Party Malling. Rapunzel princess Party Gravesend. Rapunzel Princess Party Sevenoaks. Rapunzel Princess Party Ashford. Rapunzel Princess Party Tonbridge. Rapunzel Princess Party Tunbridge Wells. Rapunzel Princess Party Swale.