Come on Barbie, let's go Party!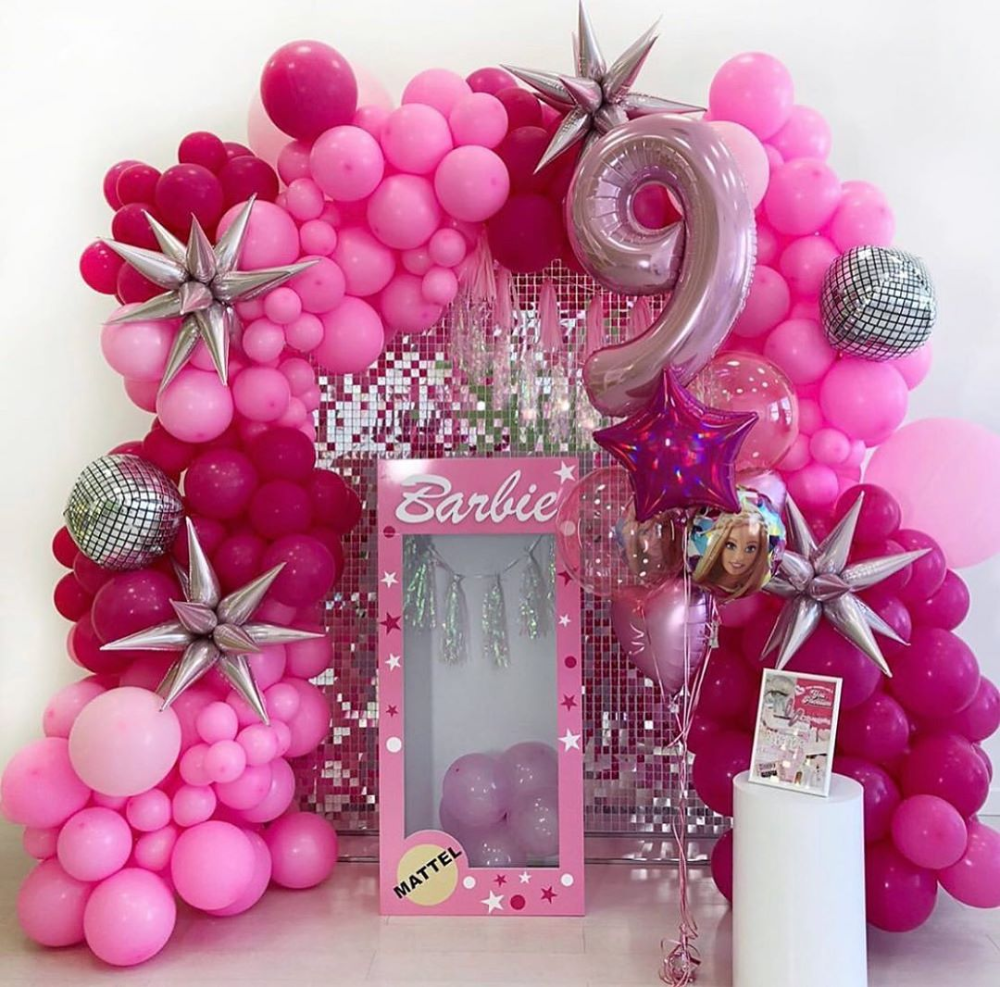 Barbie is back by popular demand!
We're so glad kids are wanting the infamous doll to come and entertain at their party. Isn't it every child's dream to meet their real-life toys? All ages will enjoy the fun a life-size Barbie will bring.
If you're not sure how to through a fantastic Barbie Party, we can certainly help with some Barbie party ideas:
The Set-Up:
As entertainers, we've played Barbie princess, sporty Barbie and ballerina Barbie. That's what we love about her; a female-led icon for any young girl to look up to. Barbie has such variety; that means you can get really creative when it comes to the set-up. So long as you go full out with sparkles and flair!
WHERE TO START? Well, in every version of Barbie…her signature colour is PINK!
So go crazy with it; pink balloon arches, pink tablecloths, pink birthday cake…And if there's enough pink, then sparkles and glitter must come next! You can also find Barbie party accessories such as plates and cups online, or at your local party supplier, (a great way to shop locally,) if sparkles aren't your thing, plain hot Barbie pink is the colour to go for!
Photo walls are a great way to ensure you have memories of those party picture-perfect moments, forever. The Barbie Photobox photo booth can make you look and feel like a lifesize doll. This can either be hired from your local decorator, or if you fancy a bit of DIY fun, you can make one yourself! Check out this Barbie Box tutorial!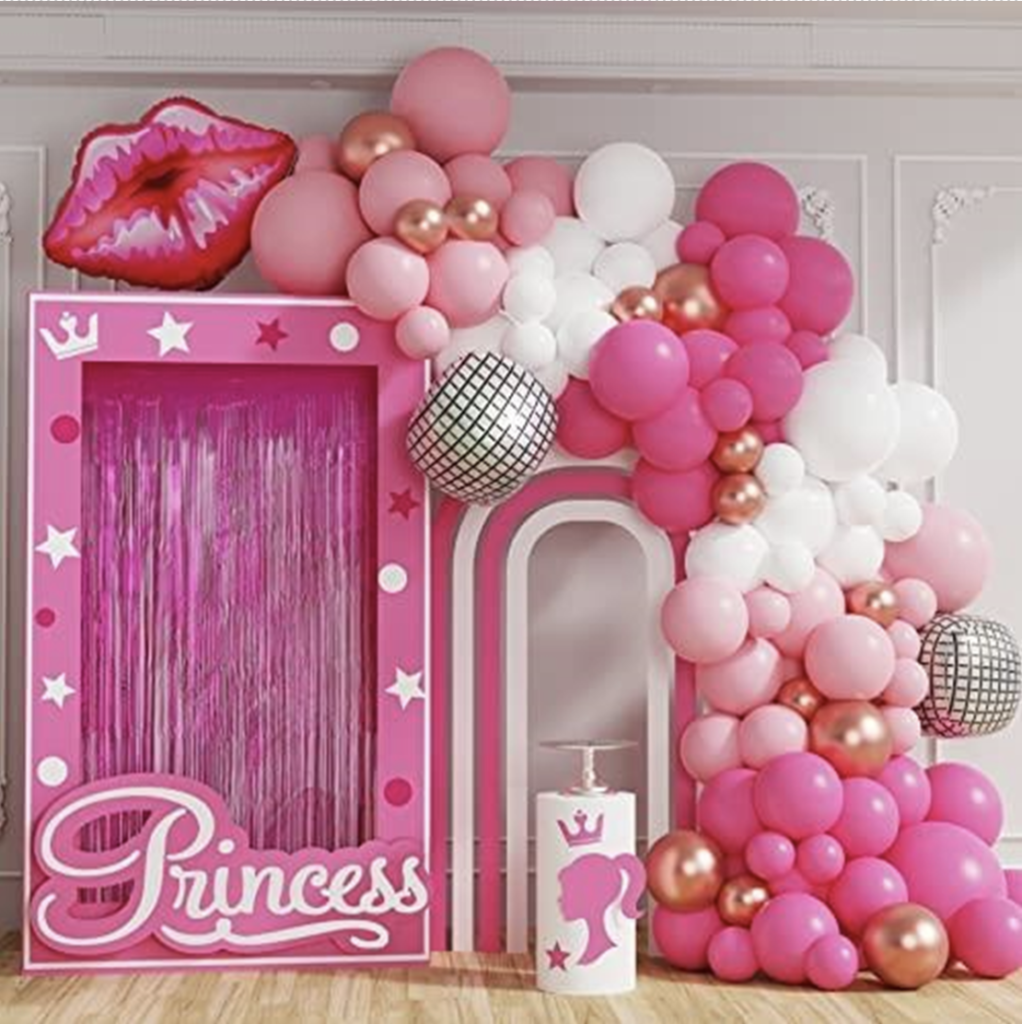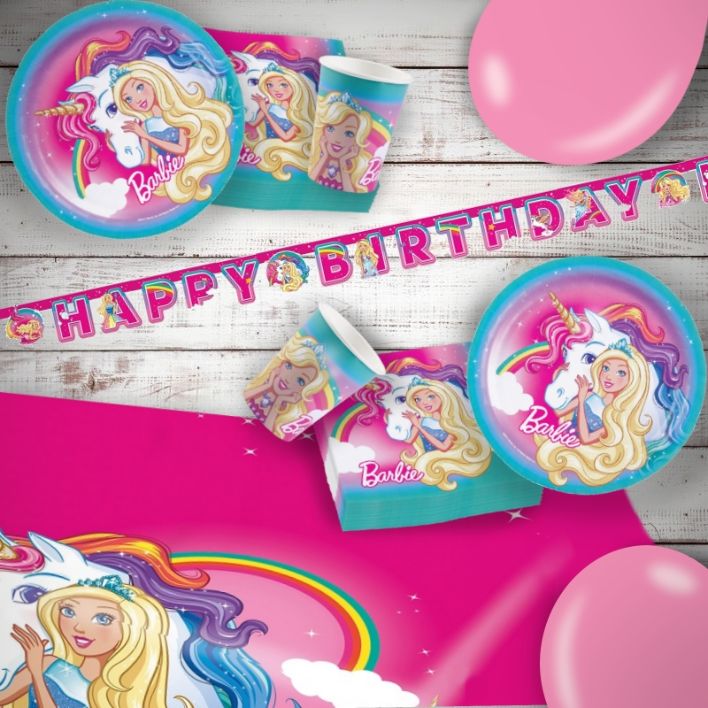 The cake:
Somehow, the cake always seems to become the most stressful part of the party. You have to worry about there not being enough to go around, if it fits the theme and of course – if it's yummy!
There are many things you can do to get this right, and these are just a few options when deciding on a cake:
– You can use a trusted cake company in your area, make sure you look at reviews before paying, or use a recommended business. If you're not sure, reach out on social media for help suggesting great local companies.
-You could ask your friends and family to help. Do you know a friend who bakes for fun? What about granny? Never feel afraid to reach out for help.
-Head down to your local store and buy the cake. Sometimes, with parents going to so many parties in a year, there's pressure to have the most 'gorgeous' looking cake. But, to take the stress off, there is always the option to buy a cake from the supermarket. They're cheaper, they have lots of different themes, and taste just as yummy!
Barbie Cupcakes could be a better option than one large cake. They make a great display set out on tiered cake stands. cupcakes mean you'll be able to get just the right amount for every guest, and no sibling will be fighting over the sizes of the slices, and there will be no cutting the cake fiasco when you just don't have the time.
If you're feeling creative, give it a go yourself. Take a look at our Barbie Cake tutorial blog on how to make the perfect 'Doll' birthday cake.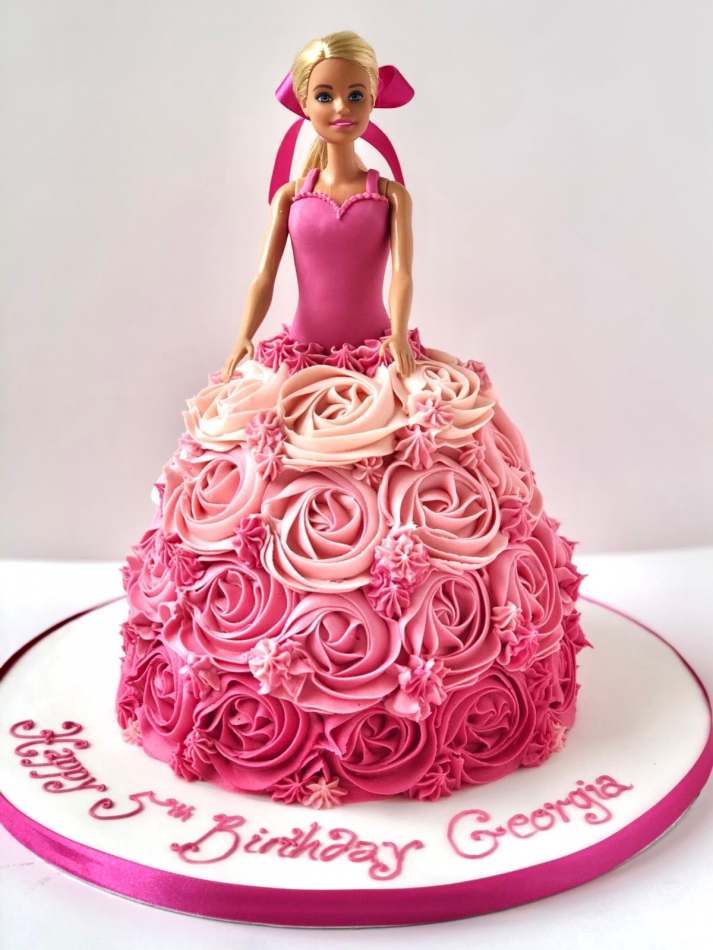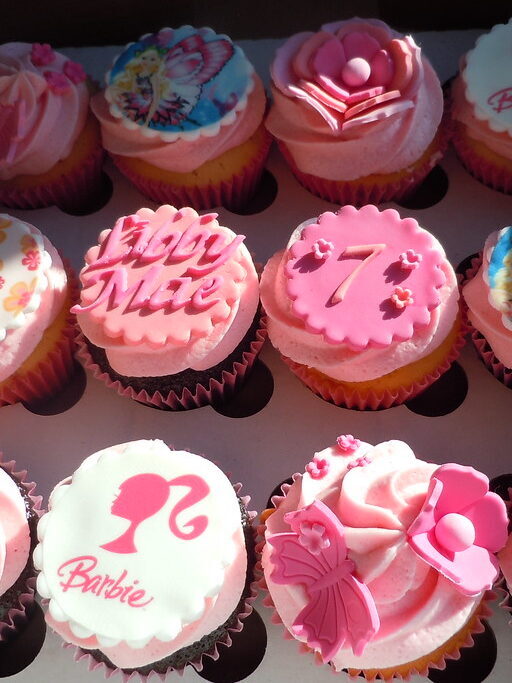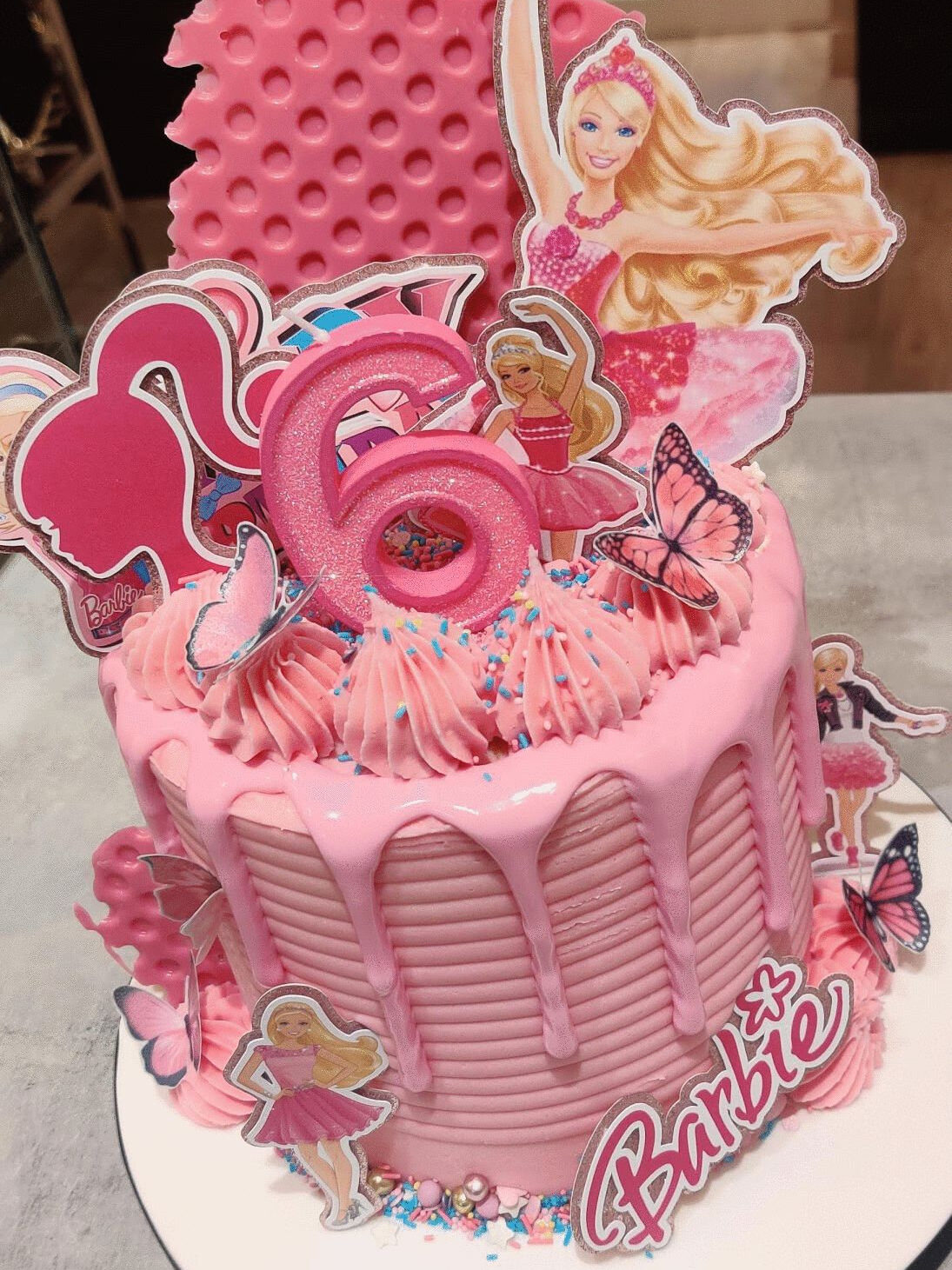 The Barbie:
It wouldn't be a Barbie Party without the Doll herself making an appearance. Without entertainment, parents can find themselves lost in all the rush, and before you know it, the party is over and it feels like you didn't get one moment to enjoy any of your hard work.
Hint, hint, this is where we come in… Snow Princess Parties provides not only princess parties, but we're also well known for our LOL Doll, Monster High Character, and of course, the infamous Barbie!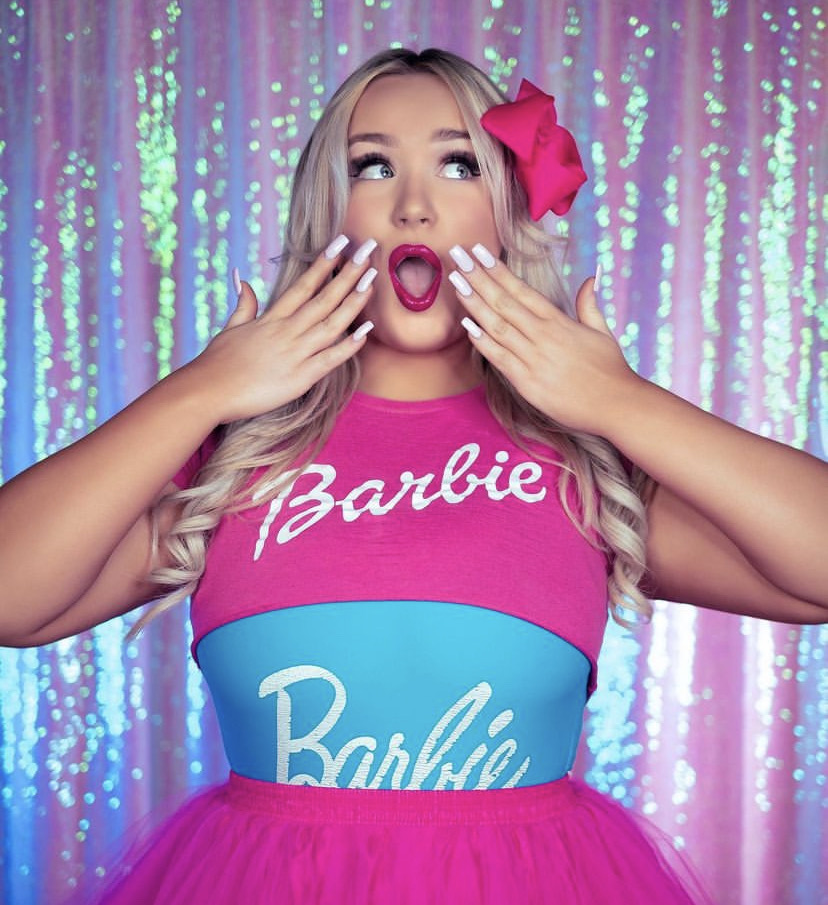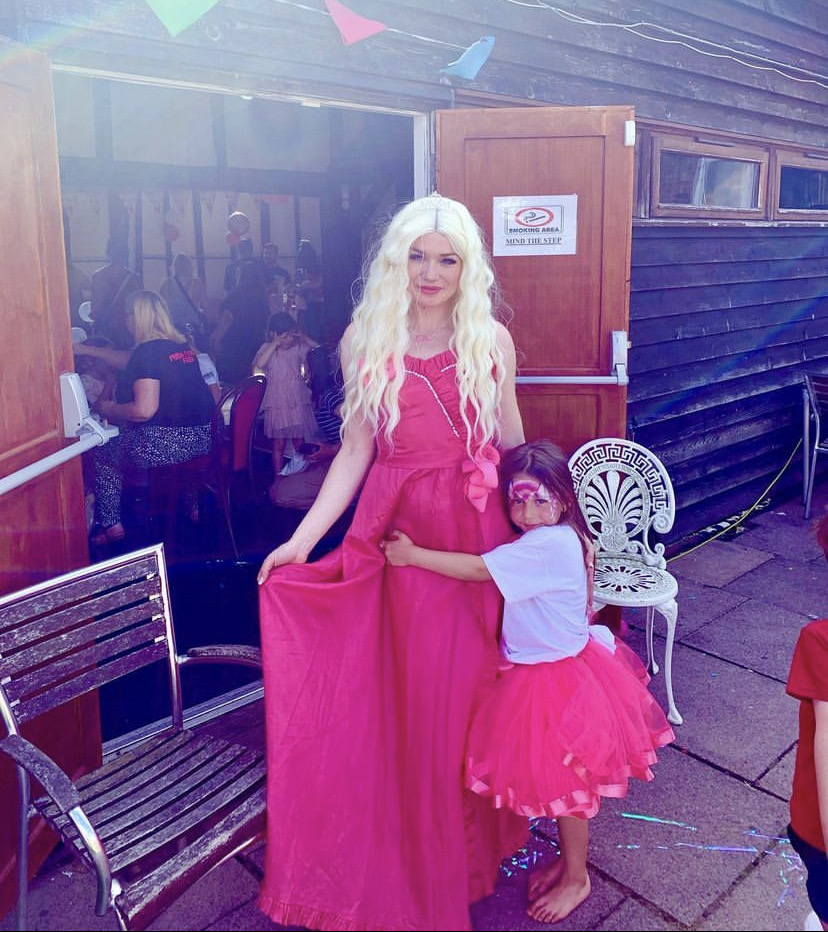 We cover all the entertainment from the start of the party to the very end, and bring a professional speaker and PA system, microphones, games and activities. We make it a stress-free experience for all parents, who can sit back and enjoy the party or you could take the opportunity to take a few pictures with the birthday girl in your Barbie PhotoBox (or you could even join in!)
If you would be interested in booking a magical party with us, fill in the booking enquiry form or give your local director a call. Hopefully, we'll meet you soon as your Barbie entertainer!  
Instagram
Burnham princess parade, princess show at Burnham park hall, free princess show, princess event, the princess parade at Burnham, princess parade, Burnham Park hall singing princesses