Ready to throw the most epic under-the-sea party of the year? These mermaid-themed food ideas are certain to make a splash with all the guests!
Clam-Shell Cookies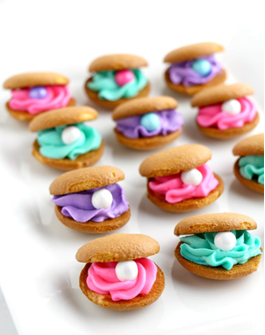 These deep-sea snacks are sure to leave a sweet taste in the mouths of your guests, and they are super simple to make!
Create your buttercream icing by beating icing sugar, butter, and vanilla extract until light and fluffy.
Separate your buttercream into three separate bowls and add food colouring. We recommend purple, pink and blue for that true mermaid aesthetic!
Pipe the buttercream onto the underside of one cookie, and sandwich another on top. Finish your clams by adding a small, round sweet (yoghurt-covered raisins are a great choice but feel free to get creative!) in the middle to mimic a pearl.
Ocean Water Punch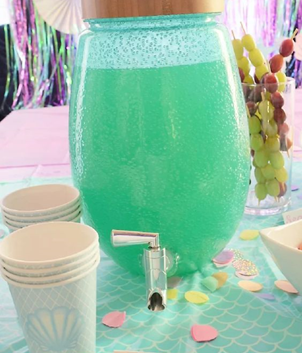 There is perhaps nothing that screams 'mermaid party' more than a bright ocean-coloured drink! This novel idea is sure to be a hit with younger guests, and you only need three ingredients:
Lemon and Lime Soft Drink, e.g. Sprite
If you want to make an adult version of this drink, consider adding Malibu!
Blue Jelly in Sand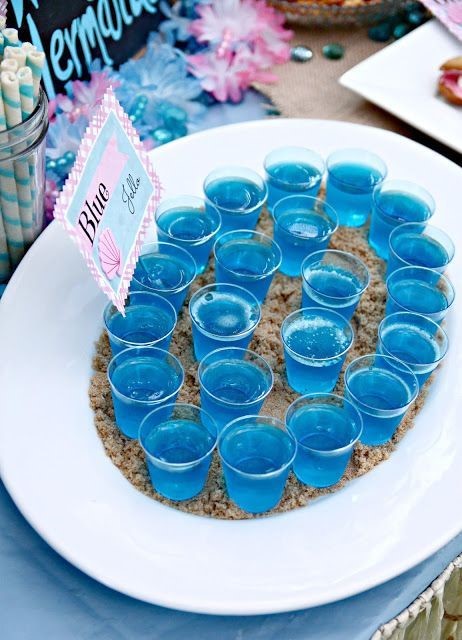 Who doesn't love jelly?! Mermify this birthday party staple by making it ocean blue. If you can't find any blue jelly in the supermarket, use some of the blue food colouring left over from your clam-shell cookies and ocean water punch. Pour into small, shot-sized plastic cups, and leave in the fridge overnight to set. Finish by placing the jelly cups on a bed of crushed biscuits or brown sugar, to mimic sand.
Fruit Crabs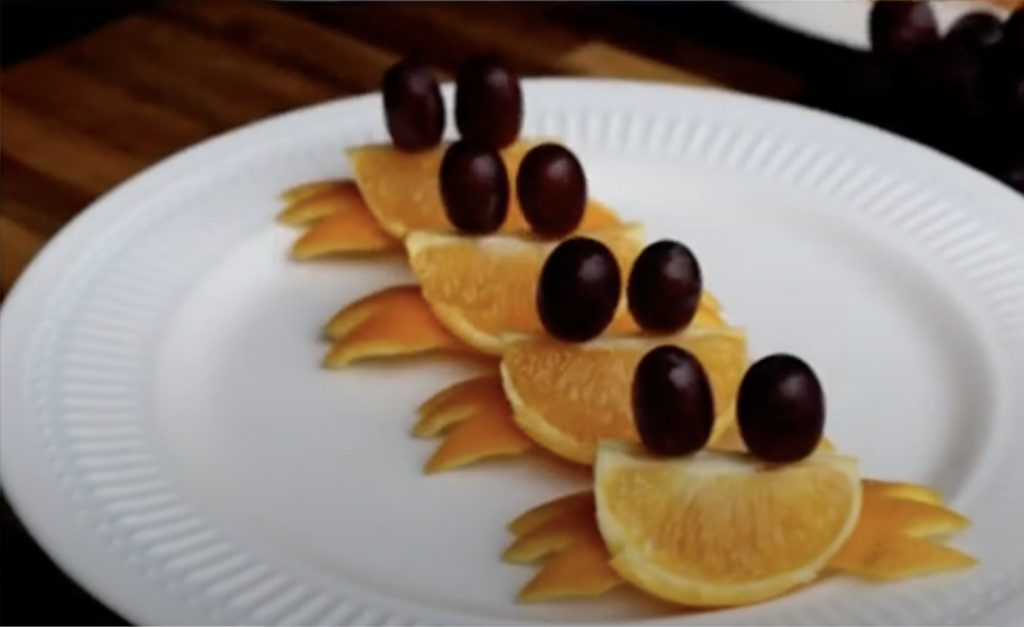 For a healthier treat, try creating these adorable fruit crabs!
Peel an orange and divide it into segments.
Cut the orange peel with a knife or scissors, to make the crab's legs.
Poke a grape or a blueberry through a cocktail stick and insert it into the orange segment to create an eye. Repeat this step for the other eye.
And that's it! Healthy food has never looked so cute!
Starfish Sandwiches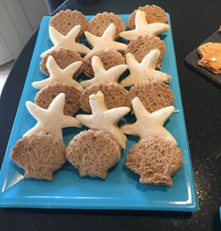 Sandwiches are a must at any party, so why not make them fit the theme by simply cutting them into the shape of starfish?! You will be the star of the show after your guests try these fun, tasty snacks!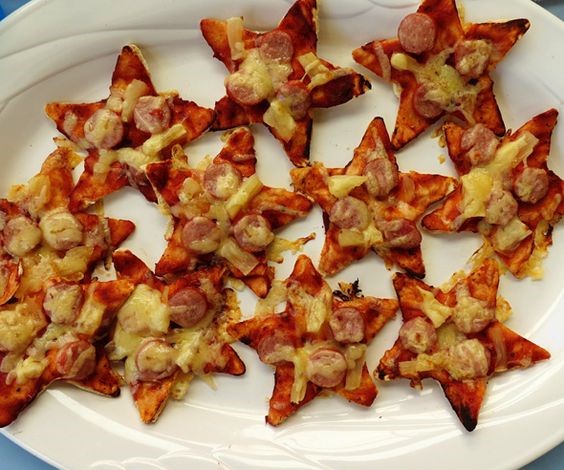 You could also try making mini starfish pizzas in the same way!
Mermaid Snack Mix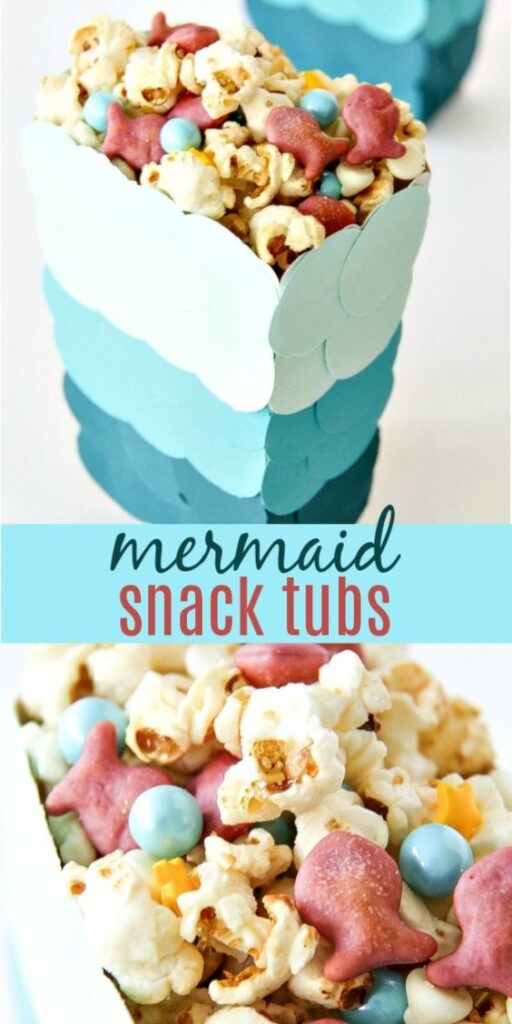 Snack tubs are always a hit, and are super easy to prepare. Combine popcorn, goldfish crackers, jelly sharks, blue M&Ms, chocolate coins, and sprinkles. Serve in small individual containers.
Shark Snack Cup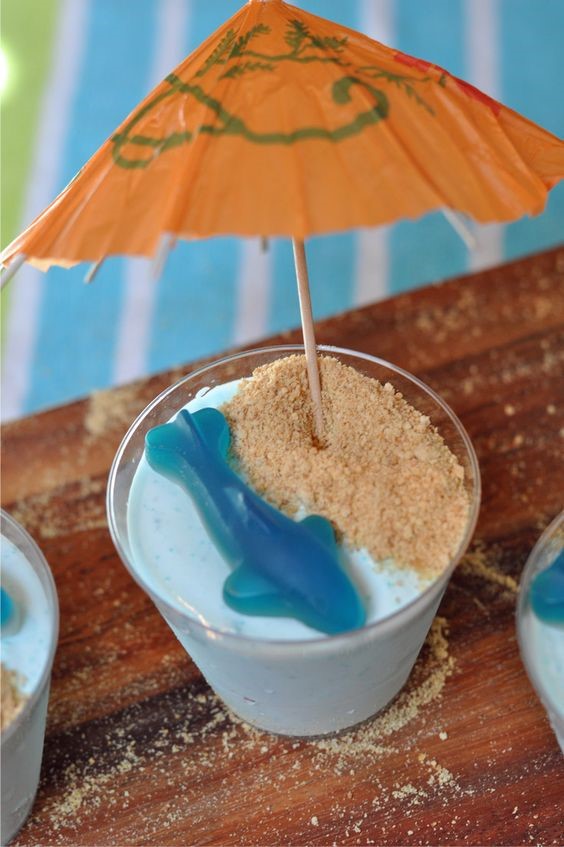 Your party guests will be ravenous for these shark snack cups!
1. Little yoghurt pots/cups
2) Vanilla yoghurt with a drop of blue food colouring.
4) Crushed biscuits (to mimic sand).
You can finish these fin-tastic treats by adding a cocktail umbrella!
Mermaid Rice Krispie Treats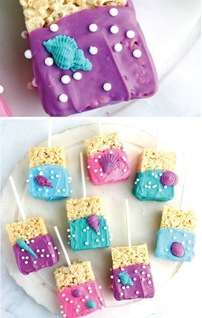 These gorgeous mermaid Rice Krispie treats are perfect for your under-the-sea party, and they involve no baking whatsoever!
Buy a box of Rice Krispie squares, or make them yourself if you have more time on your hands. You can do this by combining butter, marshmallows, and Rice Krispies in a saucepan. Mix well, then place the mixture in a lined baking tray. Put the tray in the fridge and leave for 2-3 hours to set, and then cut it into squares.
Melt some white chocolate in the microwave and add blue food colouring. Alternatively, you could use Wilton Turquoise Candy Melts.
Dip the Rice Krispie squares into the chocolate, but only halfway. This creates the look of the ocean against the sand!
Now for the fun part: the decorations! This is your chance to get creative – sweets, sprinkles… you decide. Put your creations back in the fridge to set, and after a few more hours they will finally be party ready!
Seaweed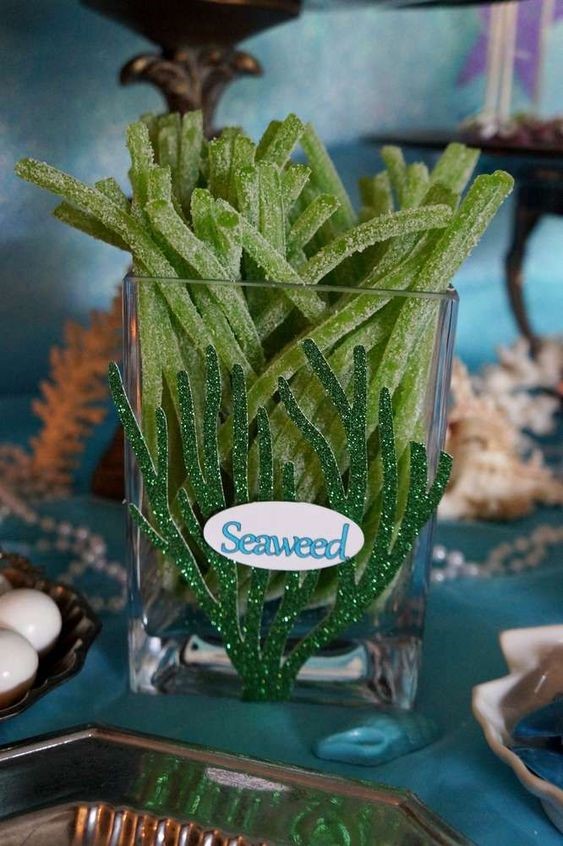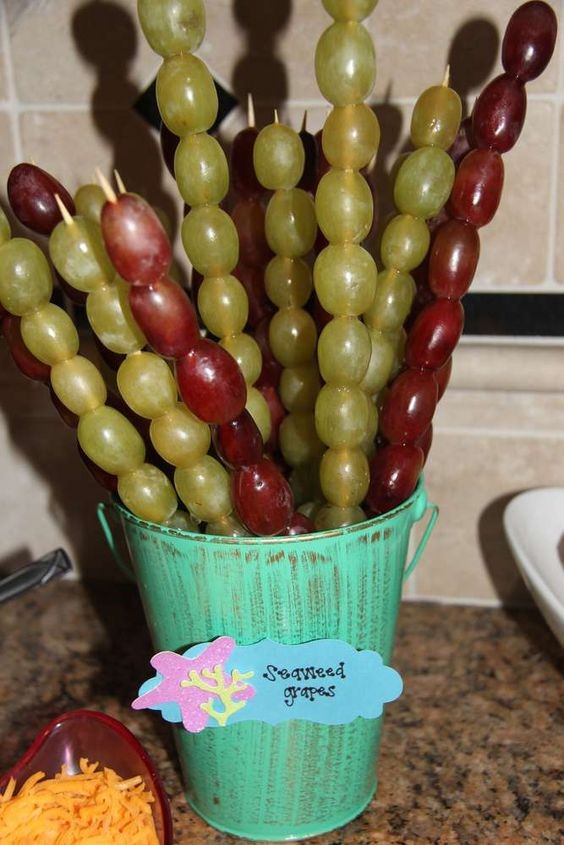 There are two different options for creating these sweet seaweed treats. You could buy some sour lace sweets, or, for a healthier option, grape skewers also create that under-the-sea effect. Seaweed has never looked quite so appetising!
The Icing on the Cake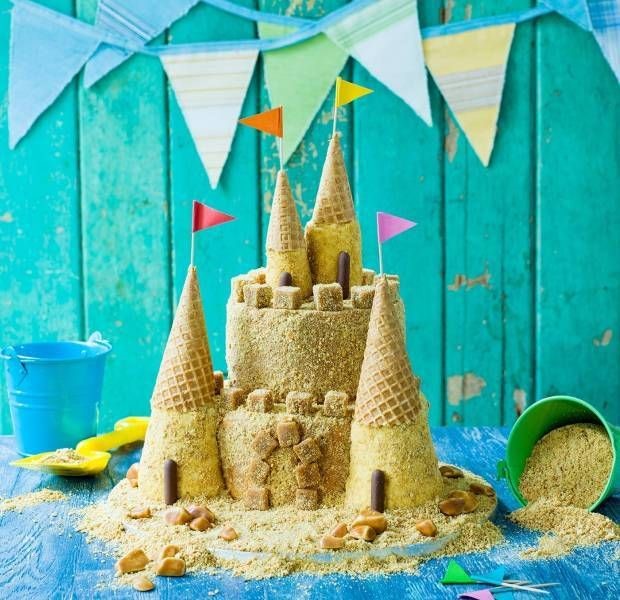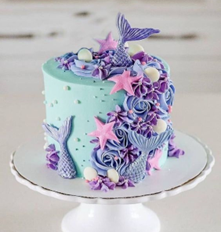 Finally, we cannot forget the pinnacle of all party foods… the birthday cake! Whilst we are certainly no Mary Berry, we have seen (and eaten!) dozens of beautiful mermaid cakes over the years. You could create a simple yet effective sandcastle cake, using crushed biscuits to mimic sand and ice cream cones for the turrets. Another option is to buy a plain white cake and decorate it yourself with blue icing, edible pearls, chocolate mermaid tails, and more. But if this all sounds a little over-whale-ming, you can always turn to your local bakery for assistance!
Give your little one a mermaid party they will never forget and save yourself the hassle of party planning by hiring one of our mermaid entertainers today!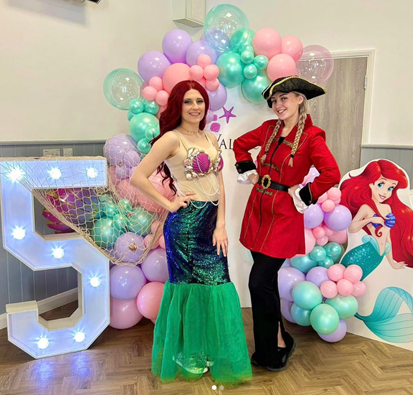 Burnham princess parade, princess show at Burnham park hall, free princess show, princess event, the princess parade at Burnham, princess parade, Burnham Park hall singing princesses