No matter how much we try to "Let it Goooo" the popularity of Anna, Elsa, and Olaf doesn't seem to be going away anytime soon! If your children haven't been badgering you for a Frozen themed birthday party for what seems like forever, do you even have kids?! Luckily for you, we're here to help! From our years of experience entertaining hundreds of parties, we have seen the most creative and clever ways to jazz up your Frozen party food, without spending a small fortune. So here are our Top 10 ideas for Frozen themed party foods that are affordable and easy to make, ensuring your little one's day is a little bit more magical.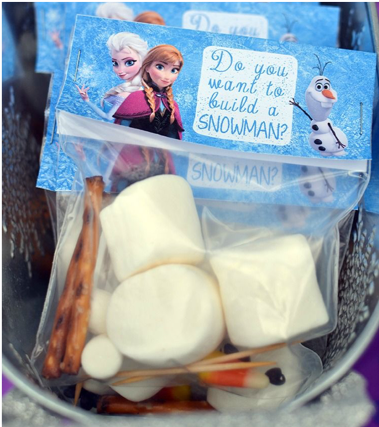 1. "Do you want to build a snowman?"
Marshmallows
Chocolate Buttons
Matchmakers or Pretzel Sticks
Smarties or Skittles
It's not just Elsa who can build snowmen, you know! Let the children join in on the magical and fun experience, by providing marshmallows for Olaf's body, chocolate buttons for his buttons and eyes, matchmakers/pretzel sticks for his arms and orange smarties/skittles for the nose. You can even provide melted chocolate or icing to 'glue' everything together – although we do warn you, this could get messy!
This is super entertaining for the kids, and you have to do next to nothing in terms of preparation, so in our opinion, it's a win-win.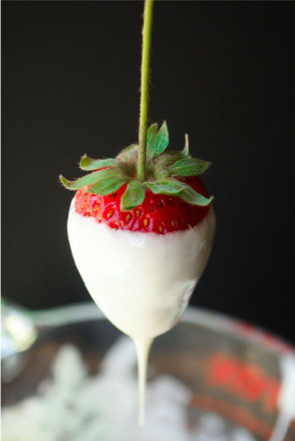 Strawberries
White Chocolate
We know a frozen heart is a bad thing… but it is actually quite tasty!
All you need for this snack is strawberries that are vaguely shaped like a heart, and white chocolate. Melt the white chocolate carefully over a stove or in the microwave, dip the bottom half of the strawberries in the melted chocolate, and then put them in the fridge to set. By only coating half the strawberry in chocolate, it gives the impression of a frozen heart thawing (and more importantly, doesn't give the children too much of a sugar rush!).
This is a simple, yet effective way to make eating fruit more exciting.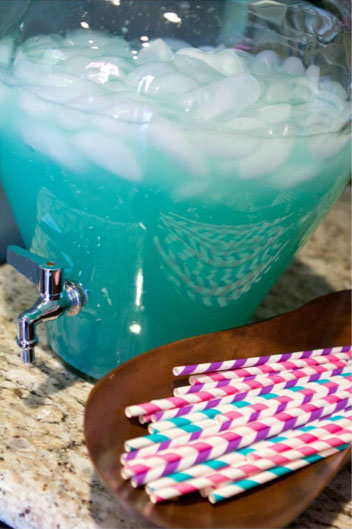 Whatever soft/fizzy beverages you want!
Lots of blue food colouring
Ice
Whilst this one isn't exactly food, it was too good not to put on the list.
Every good party needs a fruit punch to wash everything down, so why not make it Frozen themed? We suggest a tropical mix of lemonade and pineapple juice; this is refreshing and not too heavy, which is exactly what the children need after running around and dancing for hours! But it's really up to you – you can always cut out the sugar altogether and just go for a mix of soft drinks. The main part is the blue food colouring, to create the signature 'Frozen' look, and you can maximise this effect by adding lots of ice cubes. However, we recommend that your drink/drinks mixture is light in colour; if you use something like blackcurrant juice, the blue food colouring will not work as well!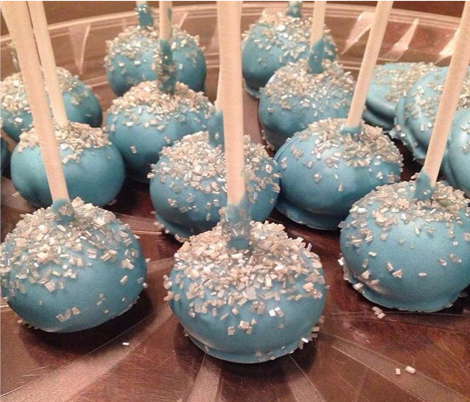 Unsalted Butter
Caster Sugar
Eggs
Self-Raising Flour
Vanilla Extract
Milk
Lollipop Sticks
Blue Food Colouring
Icing Sugar
Smarties or other sweets
Want to BAKE your party even better (see what I did there?!)? These cute cake pops will give the children (and adults!) their sugar fix, without being overwhelmingly filling and sickly.
Mix together the butter, caster sugar, eggs, flour, milk, and vanilla extract, and then bake until golden brown. Next, crumble the cake into little pieces, and add frosting to the mixture (you can make this using butter, icing sugar, vanilla extract, and a little milk. Once the frosting is thoroughly mixed in, the mixture should be a fudge-like texture; chill for one hour, before breaking the mixture up into small round balls. Now for the fun part! Add the blue food colouring to the icing sugar, insert the lollipop sticks into the cake pops (using the icing sugar to make sure they stay in), and dip them into the blue icing sugar. Remember those orange smarties you used earlier for the build-a-snowman kit? Well, you can now use the blue ones to decorate your cake pops – or any other sweet treats you have in the back of your cupboard.
This certainly takes the meaning of frostbite to a whole new level!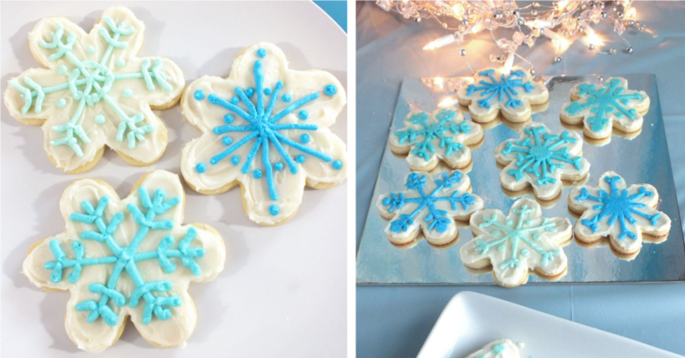 Unsalted Butter
Caster Sugar
Eggs
Vanilla Extract
Plain White Flour
Baking Powder
Icing Sugar
Blue Food Colouring
Decorative Sweets
Rolling Pin
Snowflake Cookie Cutter
Piping Bags
Nothing says 'Frozen' more than magical snowflakes – trust us, if we had a pound for every snowflake we've seen at a Frozen themed party, then we'd never need to work again! So why not put a sweet twist on this icy classic by making some snowflake biscuits?!
Create the dough using butter, caster sugar, eggs, vanilla extract, flour, and baking powder. Then, roll the dough out with a rolling pin and cut out the biscuits using a snowflake cookie cutter (you should be able to find one in most homeware stores), and bake in the oven. Finally, once they have cooled, you can go to town on the decor! You may want to add the blue food colouring to half of your icing sugar and leave the other half white, to make your biscuits alternating colours. Use a piping bag to create the snowflake design and decorate with sweets as you please!
Who knew snowflakes could taste so good?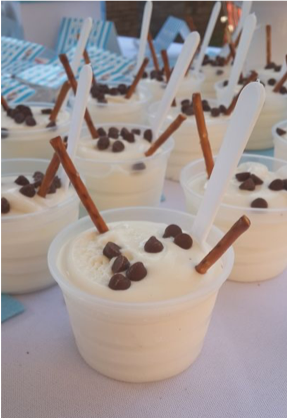 6. Some People are Worth Melting For
Vanilla Ice Cream
Chocolate Buttons
Matchmakers or Pretzel Sticks
This super simple sweet snack is definitely worth melting for. All you need is a scoop of vanilla ice cream and then you can scatter the chocolate buttons on top and stick two matchmakers/pretzel sticks into it. The ice cream will look like a melted Olaf, with matchmakers/pretzel sticks for arms and chocolate buttons for eyes and buttons. And just like that: you can bring the magic of Olaf to your party, with just five minutes' worth of preparation.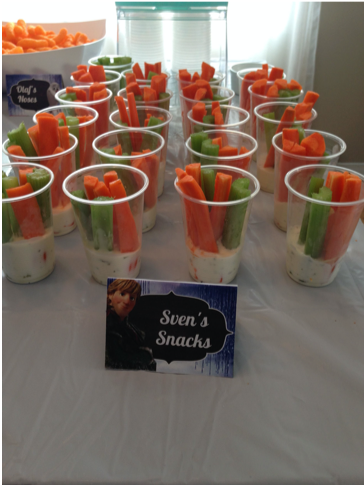 Carrots
Baby Tomatoes
Cucumbers
Salad Dressing
I'm sure you've tried almost every way to get your child to eat their five-a-day, but how about telling them that they're eating the same food as one of their Disney heroes? Simply chop the carrots and cucumbers into child-friendly, bite-size sticks, and dip them in the salad dressing to look like snow.
Who knew vegetables could be so appealing?!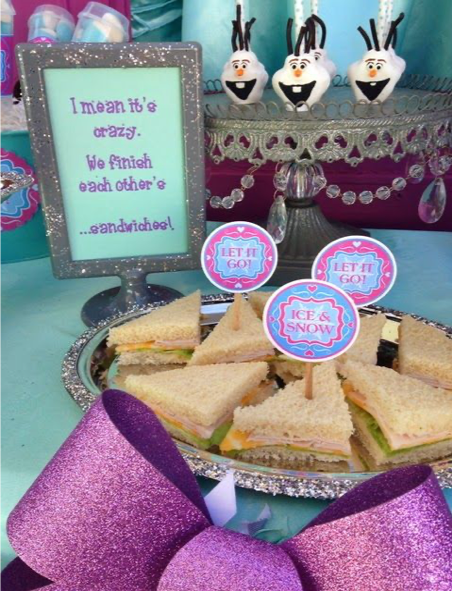 8. We Finish Each Other's… Sandwiches
We will admit, this is far from the most complicated or original party snack, but it never hurts to include an absolute classic with a Frozen twist.
Simply arrange the savoury snacks as you usually would, but don't forget to include the Anna and Hans quote. They certainly won't be the only ones finishing each other's sandwiches: the children will love this reference to one of their favourite songs, and they'll truly believe these sandwiches are fit for Arendelle royalty!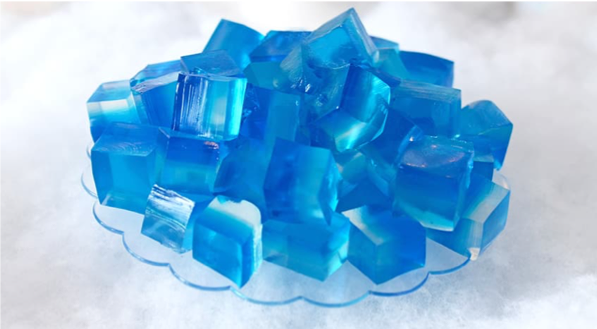 We all know how much Kristoff loves ice, but have you ever considered how much better sweet, edible ice would be?! Well, this jelly treat has got you covered. If you're feeling brave, you can attempt to make the jelly yourself, but in our opinion, it's much easier to pop down to your local supermarket and buy a ready-made pack.
Then, all you need to do is add water, blue food colouring (if you can't find a blue jelly) and refrigerate. Once the jelly is set, use a knife to cut it into cubes, and there you have your ice!
There are also many sugar-free jelly options in the supermarkets, so you don't have to worry about the kids getting a major sugar rush… ok, now you really have no excuse not to give this a go. We wouldn't say this icy force is both foul and fair… mainly just fair.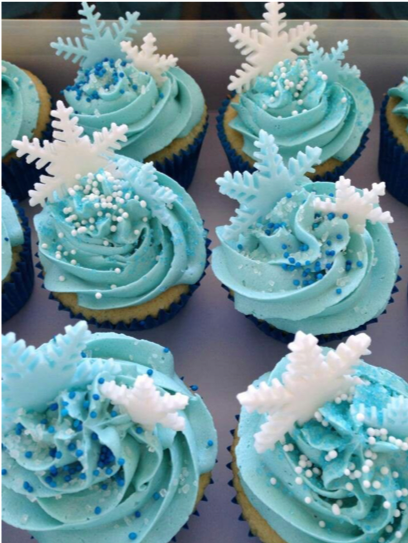 10. The ICE-ing on the (Cup)Cake
Unsalted Butter
Caster Sugar
Eggs
Self-Raising Flour
Vanilla Extract
Milk
Blue Food Colouring
Icing Sugar
Blue Cupcake Cases
Want to avoid slaving away in the kitchen for seven days making the ultimate Frozen birthday cake extravaganza? Or maybe you just want to add an extra sweet treat to your party? Whatever it may be, cupcakes are guaranteed to improve any party, and are a lot simpler to make than a HUGE birthday cake. So, get your blue icing and sprinkles at the ready! When in doubt, cupcakes are ALWAYS the answer.
So, there you have it: every 'Frozen' themed party food you could ever need, to take your party to the next level! But, if you feel something is still missing, you can make your child's birthday even more unforgettable by hiring one of our entertainers. You can have Anna, Elsa, or Olaf (or all three!) hosting your little one's party, jam-packed full of games, music, and photo opportunities, leaving you to put all your attention into these crazy Frozen foods! Sounds like a dream, right?! Click HERE for more information.
Frozen kisses, The Snow Princess Parties Team xo