Wow wow wow what can I say except thankyou for an amazing party and making not just my little girls party amazing and memorable but giving 36 children an incredible time!! Highlight was definitely Spider-Man's backflips for parents & children alike but Cinderella was the organised glue that kept the party together and running so smoothly. Both Cinderella and Spider-Man were amazing and I can not recommend them enough!!!!

Lydia was superb as Elsa… I'm so glad I found her available for the date as I planned the party in just one week… My daughter had a ball… she still talks about Elsa coming to her party… Most adults said that although they have been to several Frozen parties, Lydia was the 'most believable' Elsa they saw.. – Thushara Wickramasinghe

We had Lydia for our daughter's birthday party and she was amazing! The children were entertained for 2 full hours non stop with lots of fantastic party games, face painting, etc. She engaged since the beginning of the party with all the kids and all had a wonderful time, boys and girls. Very happy birthday girl and very happy parents! We would highly recommend her. – Brendon and Gabriela

Lydia our snow princess arrived dressed up and in character from the moment she walked through the door, my daughter was so excited. She led the party from start to finish, her professionalism and experience is evident, and everyone had a fantastic time. Thank you so much for making my daughters day so special! – Candice Nash
Unforgettable Entertainment For Your Event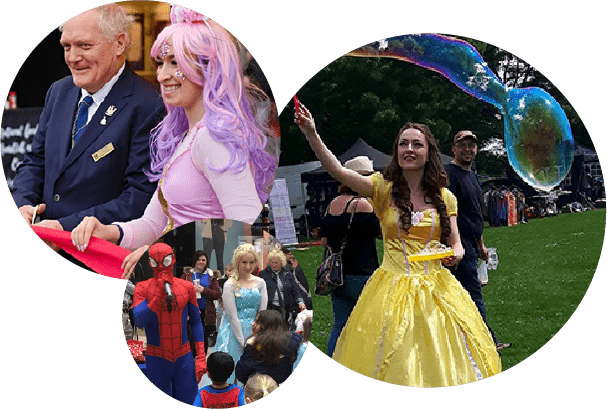 Our Princesses and Superheroes have brought that extra sparkle to a wide range of events, from corporate parties, to end-of-term parties at nurseries and summer camps, to meet-and-greet events at fairs and shopping centres! We believe that everyone deserves to experience a little magic, so we bring both professionalism and personality to every event we attend.