Throwing the perfect unicorn party –
It's a normal day. Everything is going well, until you hear these dreaded words from your little one, jumping up at down with excitement: "I want a unicorn party, Mummy!" You dismiss it as a phase, but as you begin to hear these demands more and more, the panic sets in. "How on earth am I meant to pull off a magical, yet affordable party for my child in just a few months?!" Well, panic over; Snow Princess Parties are here to help! From decorations to entertainment, food and added extras, our entertainers have shared their secrets for a unicorn party full of magic and sparkle. So, let's get started!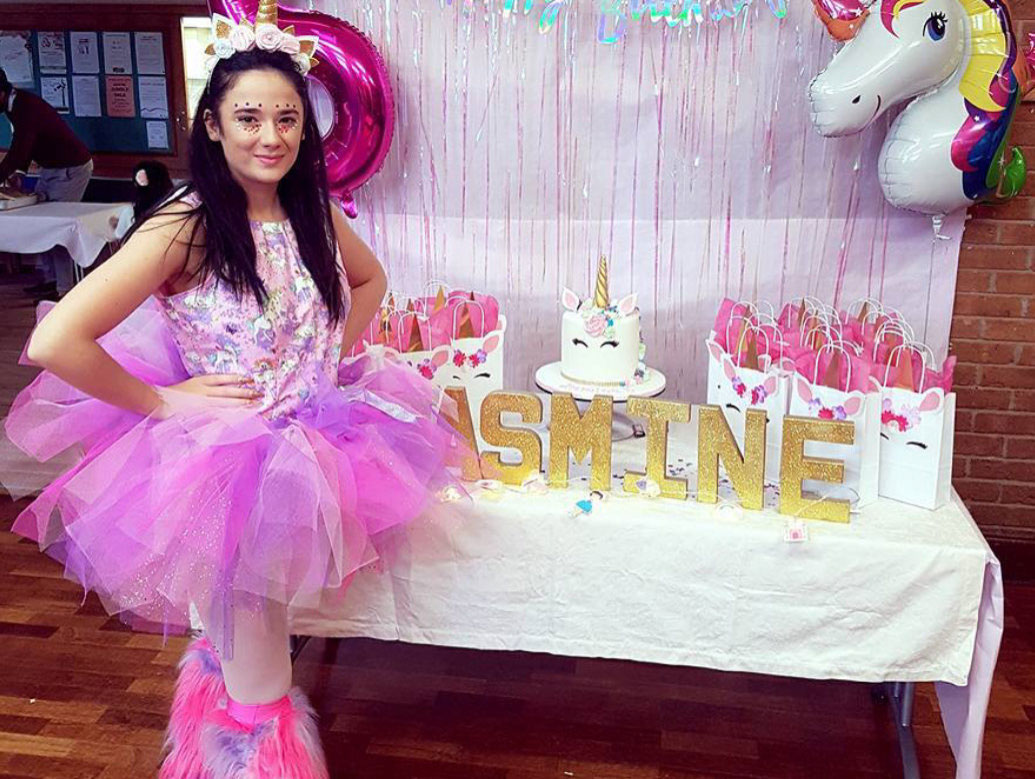 1. Glamming up the Venue : Unicorn party decoration
Whether you're hiring a hall or braving 10 screaming kids in your house, transforming your venue into a magical unicorn utopia will make your child's birthday dreams come true. And this doesn't have to cost you the earth either! Bunting and balloons in purples, blues and pinks, are a simple yet effective way to transform your venue. Hang them up around the room, above doors, and even on the outside fences and bushes to keep the magic alive. Coloured balloons are also great to have outside the venue, for people to spot the party destination! If you want to go all out, you can even buy some helium balloons which will entertain the children for hours (until one inevitably let's go and the balloon floats away)!
To keep the magic alive even when the children are eating, why not pick up some unicorn plates, cups and tablecloths? These are cheap and easy to find, both online and in your local supermarket. After all, who doesn't want to eat in style on their birthday?
Adding the Extra Sparkle:
So now you have the basics, why not jazz things up a little more?! A great way to do this is with a presentation table. Here you can display the birthday cake and other sweets, party bags, name banners and lots more! This also acts as a great photo backdrop, for you to remember the magic of the day. The big "Happy Birthday" moment will be more wonderful than ever; everyone gathered around this beautiful display will make the birthday child feel super special.
2. A Piece of Cake: Unicorn birthday cake ideas
Now that the decorations are out of the way, it's time to turn our attention to the star of the show: the cake. This is the part most parents shudder at the thought of. Will everyone be whispering behind your back at the school run on Monday, about how poor the cake tasted? Is it worth the risk of making it yourself? Or do hire a professional baker? Aahhhhh!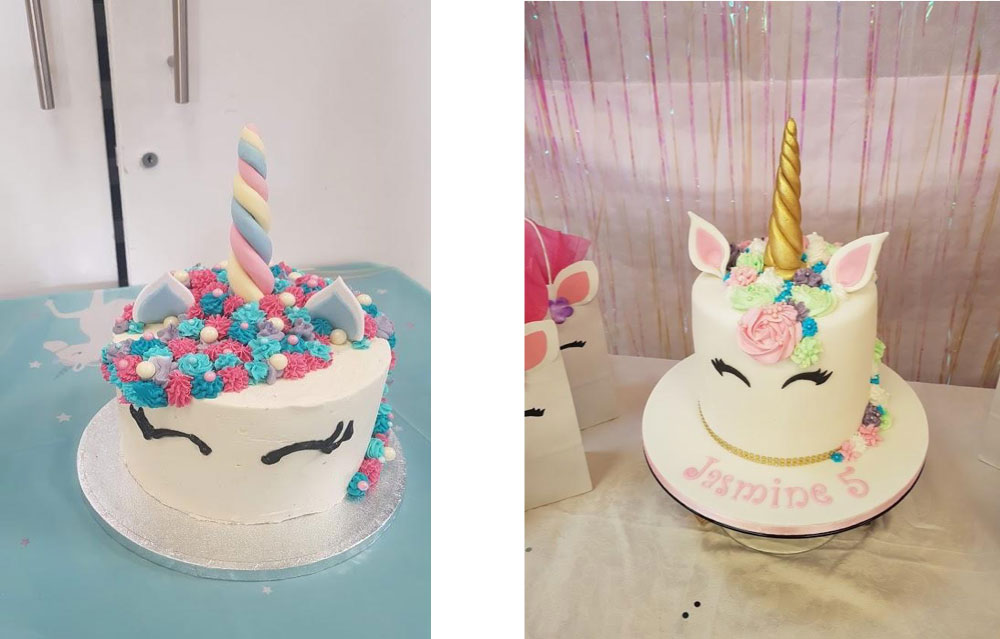 Instead of panicking, start by looking at some of these beautiful cakes that we've seen at parties over the years for inspiration. Unfortunately, the decision of baking a cake or hiring someone to do it for you is something we can't help you with, so we're going to have to leave that to your judgement! Cupcakes are another great option to add if you are not looking to have anything too big, or you might even want to go for both. Whatever your decision may be, give your party a cake Mary Berry would be proud of!
Now for the fun part! Entertainment can make or break your party, so it is something that needs careful consideration. Thankfully, this is our area of expertise, so you're in safe hands with this advice!
Hiring an entertainer is a great way to remove the stress of entertaining masses of screaming children all by yourself. We provide beautiful professional unicorn entertainers (pictured on the right) who keep the children entertained from start to finish, providing a sound system, music, games and prizes! You can sit back and have a well-deserved break, whilst our entertainers take care of everything for you. Visit our website www.snowpriness.co.uk for more information.
Its important to pick a company carefully and investigate everything they offer, making sure they tick all your boxes.
You might want to hire a bouncy castle as your entertainment. These can be used in halls or even in your garden if you are having a summer garden party. The kids will be occupied for hours!
Are you feeling super brave? Then why not save some money and entertain all the children yourself? Grab yourself a speaker, create a playlist and you're ready to go with the music! But how do you stop them from running riot? If you're having a house party, setting up a table with some arts and crafts is a fun way to keep them entertained, but remember to cover everything with a cloth, tissues or newspaper. Your beautiful white carpet might not look as good when its covered in pink pen! Some fun crafty activities could be decorating their own crown, colouring in or even creating their own Unicorn! Another option is to run a disco style party: you can never go wrong with the classics like 'pass the parcel' or 'musical statues' (but they must freeze as unicorns)! You can also pick up some great games online or in your local shop, such as pin the horn on the unicorn or a unicorn piñata. You will be the envy of all the other parents once they hear that you successfully entertained 25 five-year olds by yourself!
4. An Extra Sprinkle of Magic
Now you've got the basics for a sensational unicorn party, there are plenty of easy ways to make the day even more unforgettable.
Having a real-life unicorn at your party sounds like every adult's dream, let alone every child's! So why not make that a reality? This will definitely be a great surprise and provide everlasting memories for everyone there.
A bit of glitter makes everything better, so why not create the ultimate unicorn vibes and glitter everyone up?! Setting up your own glitter booth or hiring a glitter artist to complete the job for you are great options to delight the children. There are many talented artists you can hire, but we can recommend www.unistylez.com who also use all biodegradable glitter!
A photo booth is another great little extra for your party, and it's super easy to do yourself! Grab yourself a unicorn backdrop and hang this up on a wall, or anywhere appropriate. You can buy, print out, or even make your own backdrop, by using a plain coloured sheet and adding some balloons! Gather some fun props for the children (you can get creative with these!) and finally a willing adult with a phone to take photos. It's as easy as that! You will then have lots of wonderful memories of your perfect unicorn party, that'll last forever!
The one thing every child wants to remember the special day is a party bag! But why not jazz up this typical cliché and give unicorns instead? It's something different, fun and will last a lot longer. Even the adults will be lining up for this special treat! But if you want to do party bags that's totally fine too; simply pick up some unicorn party bags at your local shop or online and add anything you like. Some examples of things you could add are sweets, colouring sheets and pencils, stickers, hair clips, mini unicorns and much more! Get creative with it!
Those are the ingredients to a perfect Unicorn Party! The party you were once dreading when first started reading this is now something you can't wait to start planning! We would love to hear all about your party and see all your pictures. You can send these to katy@snowprincess.co.uk.