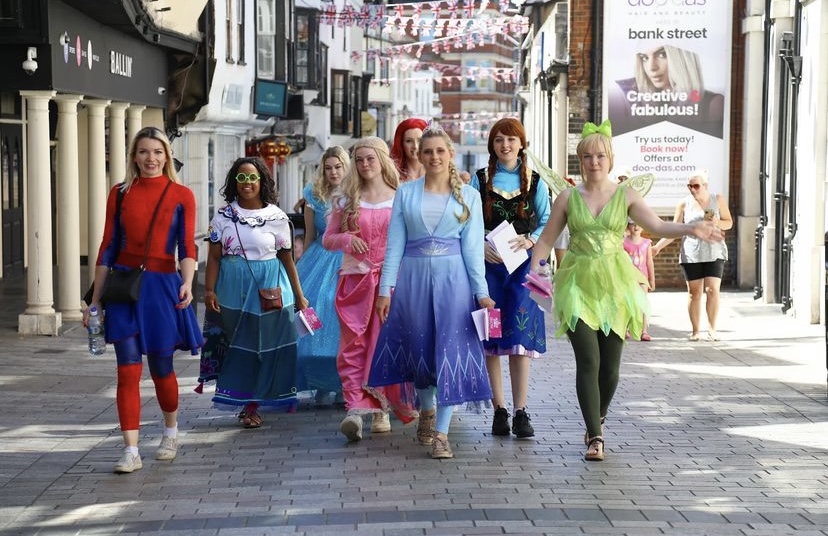 It's been nearly six months since our incredible, free Princess Parade event in Maidstone. At least 450 families and friends attended to meet and greet with eight of our gorgeous princesses. Photos were snapped, there was dancing and singing all the way through; live music floated through the air. Magic and sparkle was everywhere, as the princesses paraded down the Maidstone High Street.
We were greeted by so many little princesses
Snow Princess Parties were overwhelmed by the love and support we received from everyone from the Maidstone community and beyond. We loved seeing so many kids dressed in their finest fairy-tale outfits. The way their faces lit up as they saw us walk up the High Street, will be something our princesses will remember for years to come. We stopped to answer the questions the children always wanted to ask, and played some of our favourite music. Our fabulous singing princesses performed live as we walked to Brenchley Gardens for some more dancing and singing!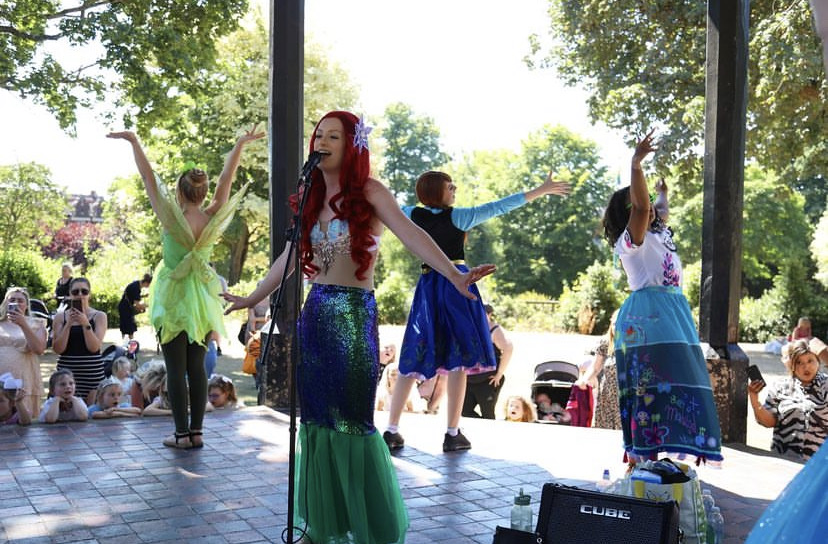 Creating beautiful memories they'll never forget
The fact that we got to give the children a memory of meeting 'Elsa', 'Sleeping Beauty' or 'Ariel' in our hometown of Maidstone is something we'll always treasure and can't thank you enough for joining in on the fun! We'll always be striving to be your best, local Princess Entertainers in Maidstone.
Take a look at what some of the mums and dads said about the 2022 Maidstone Princess Parade below:
"The Princesses were wonderful today; so cheerful and patient even when being chatted to by little ones" – Debbie
"My daughter kept looking out for their transport, convinced she'd see a golden carriage as we walked to our car!" – Bernie
"Thank you for a truly magical day. You've made magic a reality for my little girl" – Shannon
"Thanks for the magical afternoon" – Lívia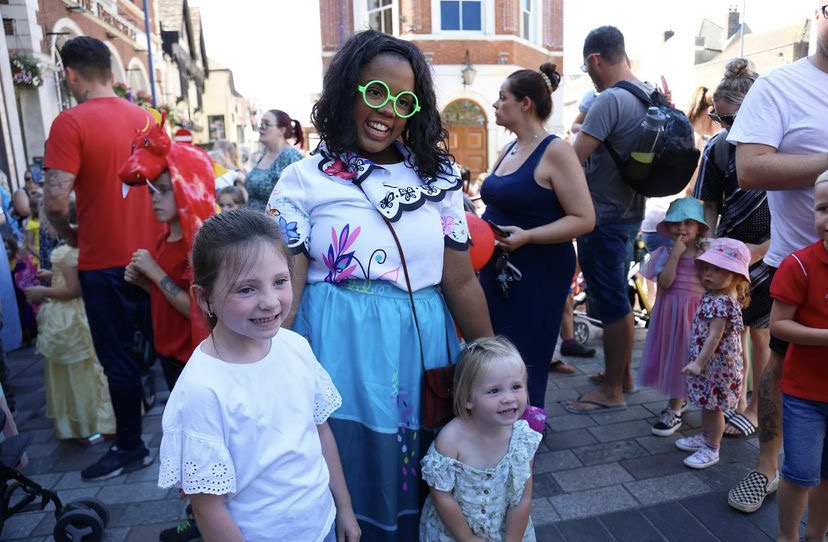 We loved the parade experience so much that we will be back again and bigger than ever!
Our Maidstone Princess Parade is back again for 2023! 
Come along and join in the fun for FREE!
Thursday 10th August 2023 at 1pm till 3pm 
Location: Jubilee Square Maidstone, ME15 6JG
This year we're going bigger than ever! More princesses will be coming and we will be learning a choreographed dance to go along with our songs, that will be easy enough that the kids can do it themselves! All down the Maidstone High Street, once again.
We can't believe that we get the honour of spreading magic and delight as our job. It's an experience that we truly treasure. Children are only young once and they only believe in magic for so long, so it's our mission to give them the most enchanting years of their life!
If you would like a Princess Entertainer at your next birthday party, consider 'Snow Princess Parties' your local children's entertainer and the UK's highest customer-rated Princess Entertainment. We provide all the entertainment from start to finish; action-packed themed party games, music, prizes, bubble machine, vibrant costumes.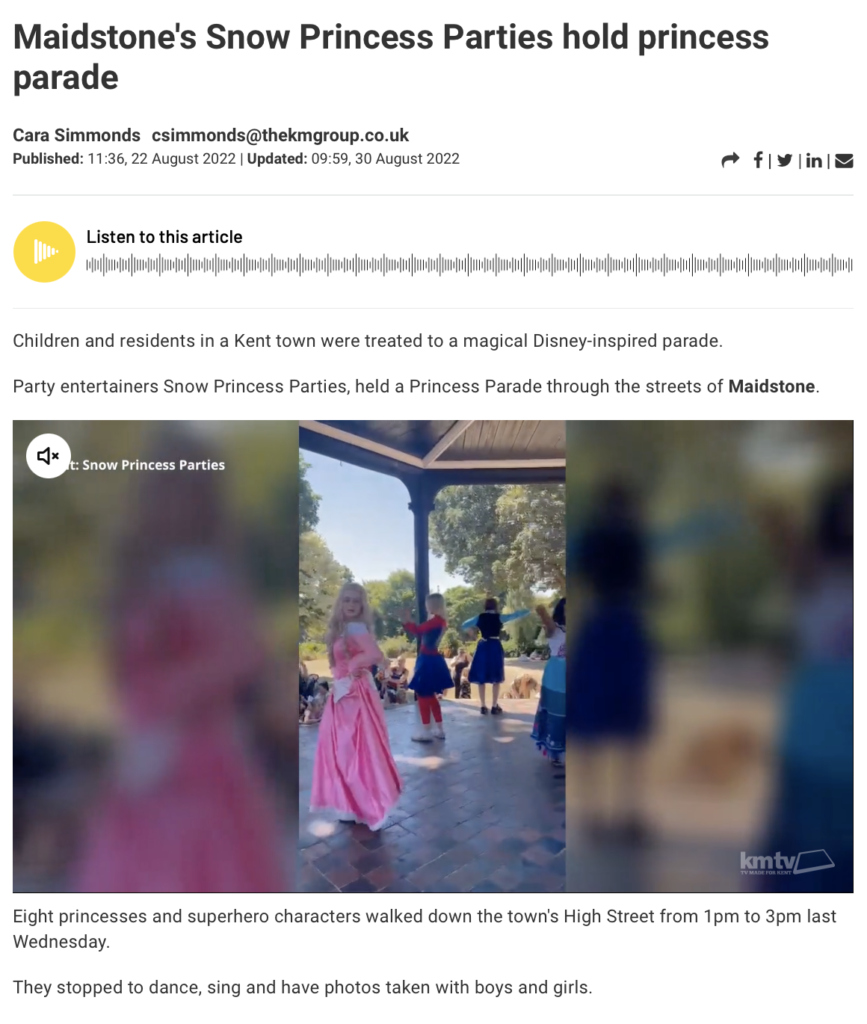 Have you attended one of our parades? Why not bring the magic home with one of our magical parties. If your child can dream it; we can create it! So get in touch with your vision, and together we will make their day truly special. Fill out our online booking form today!
Instagram
[fts_instagram instagram_id=17841414053686335 access_token=IGQVJVUjA0QmUzSjJlM19Kc2NMVWVYRE1WbFdFZAmpEaTZAUVlVZAbFR5bHdyUFBSdlBkQmNybGdqWktfREpFRnJ1aS1zcnlKeVdaeGtOUXFGaXdPa2lfQ3FVbEdRYk5yVEZA3UGM0ZAkJR pics_count=6 type=basic popup=no super_gallery=yes columns=3 force_columns=no space_between_photos=1px icon_size=65px hide_date_likes_comments=no]
Burnham princess parade, princess show at Burnham park hall, free princess show, princess event, the princess parade at Burnham, princess parade, Burnham Park hall singing princesses