You've decided to throw a princess-themed birthday party for your little one, you've chosen your character, and have your professional Princess entertainer all booked – now, to plan the decorations!
The first thing to think about is your venue – whether you are hosting your party at home in your living room, in the garden, or in a hall/other indoor venue will determine how you could decorate. Here are some general tips for all venues, and also some more specific ones to suit your particular set-up.
Having a colour scheme is a great idea to make choosing decorations a little easier, and it often works well to choose colours related to the princess character that you have chosen – for example, if your character wears a yellow dress, it could be nice to have yellow/golden coloured decorations to match!
A nice extra touch would be to include small details from your character's film, or things that your character is associated with, into your decorations – for example snowflakes/seashells/roses. These could be incorporated into things like balloons or bunting, and especially cake decorations.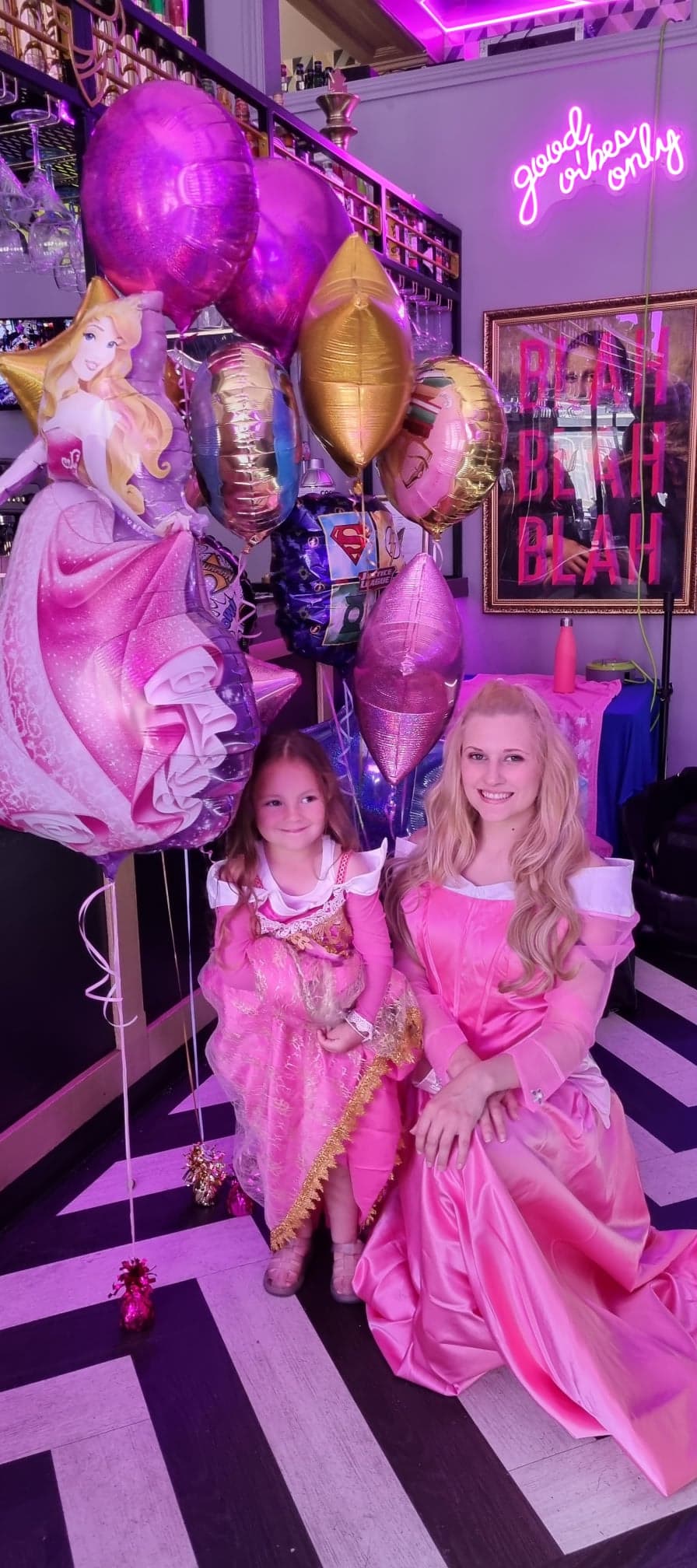 In our experience, it's rare to attend a party that doesn't use balloons as some of the main decorations! These can sometimes cause a little anxiety for some children who are scared of them making loud noises if they pop – therefore, a top tip would be to fix the balloons into a position higher up on the walls so that they can't be reached by children and accidentally popped.
Our entertainers can provide balloon modelling as an add-on to your party package, which could give the children a chance to still have fun with balloons in a more controlled way instead of having loose balloons on the floor of the venue.
3. Themed Table Decorations
Having themed table decorations such as paper plates/cups/ tablecloths is a nice touch to help maintain the magic of your princess entertainer's presence, even during a food break, as the children will be surrounded by pictures and colours related to the characters' films that they love.
This also provides entertainers with little talking points for any shy children, where we can point out characters from the pictures and tell stories about them or ask the children if they know their names.
A lovely idea that we have seen at some smaller parties is to replace having chairs and tables for the children with more of a picnic-style set-up for the food break instead – this could be done by arranging some big cushions on the floor, surrounding a blanket or some wooden crates covered by blankets/a tablecloth, with food laid out on top. This can give a more rustic feel to the party and a more unique experience for the children.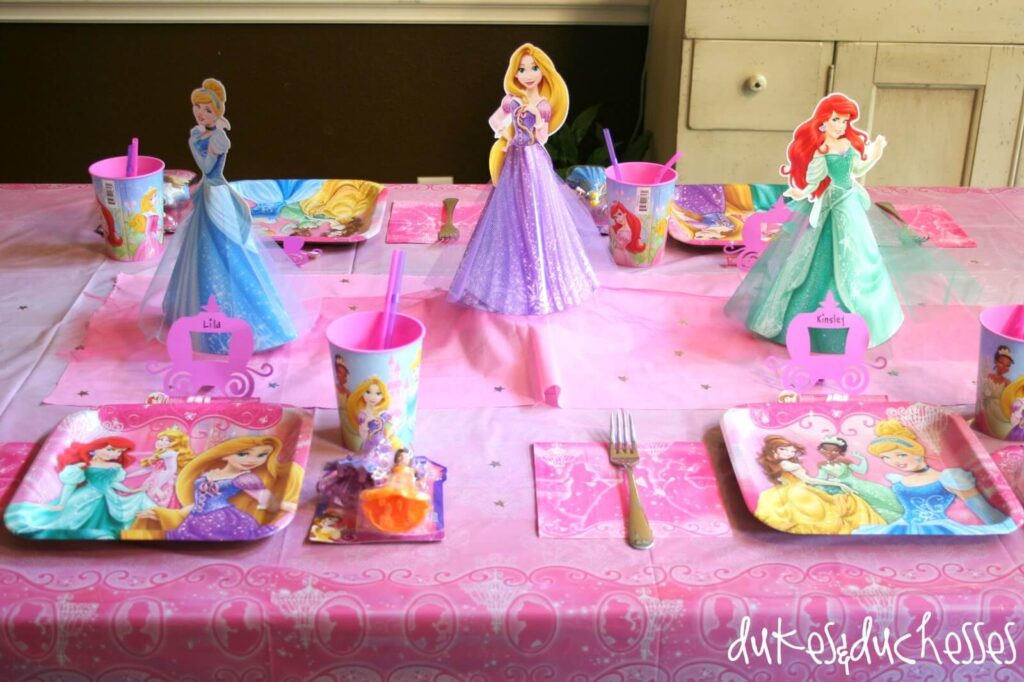 No matter where you are hosting your party, it is always a fantastic idea to reserve a section of your space for photos, and create a colourful or themed backdrop! The photos taken at your party will be treasured memories, and so it's a great idea to make the background look as photo-friendly as possible.
You could do this with a balloon or flower arch, a Happy Birthday banner, or metallic fringe hanging on the wall – or more than one of these! With your photo background against a wall, this would mean that there were no other people/furniture/untidy messes in the background of your photos.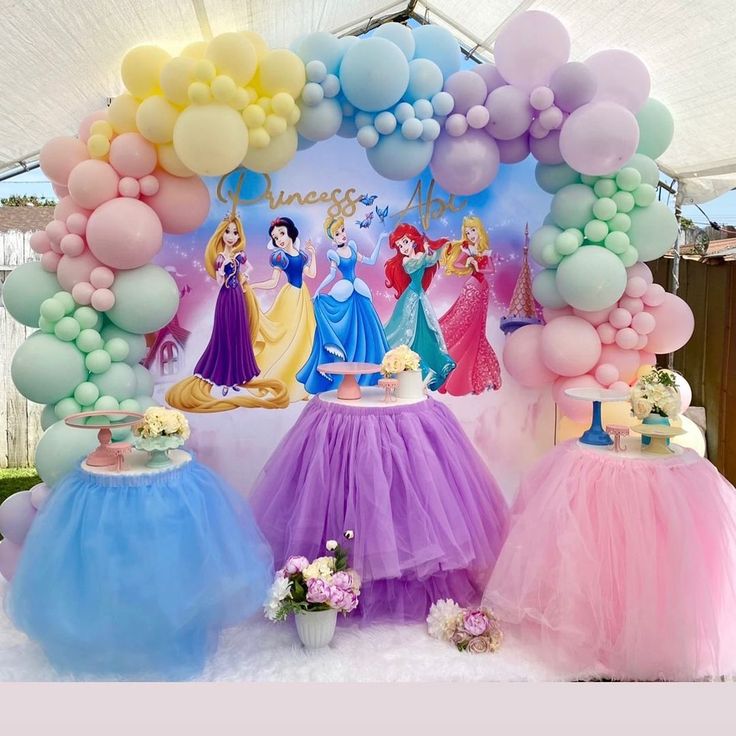 It's always a lovely idea to include some numbered decorations for how old your child is turning on their big day, and especially to include these in your photo backdrop, for example a light-up number '5' /a balloon in the shape of the number/a banner saying 'Happy 3rd Birthday' etc. This way, when looking back at your photos in years to come, you can always remember which specific birthday this was – and you can see a timeline of birthday photos throughout the years to document your little one growing up.
Some other little extra touches to your decorations could be things like a Photo Booth frame – slightly older children love these, as they can pose for photos with their friends inside the frame. 
A similar idea is to have a 'Stand-In Photo Prop' where children can put their faces in the holes that are cut out of the photo and become their favourite princess – and of course pull some funny faces!
If you are planning to host your party outdoors, it is essential to think about having some sort of shelter such as a gazebo, regardless of the weather forecast! Even if this is just a small gazebo for your princess to set their equipment up under, this will hugely help us to run the party smoothly.
Not only will this provide protection from unexpected changes in weather, but also in the summer time, this provides some much-needed shelter from the sun for your entertainers who will likely be very warm in their costumes, and also allows our equipment to be in the shade to prevent our speakers overheating and music cutting out.
Gazebos can also be a lovely place to set up the eating area in outdoor venues, where food can be served under shelter and the children can have a break from the sunshine while they eat (and top up their sun cream!)
A top tip for outdoor venues is simply to make sure that all of your decorations are fixed down well – nobody wants balloons and banners flying into the neighbour's garden!
8. Eco-friendly Decorations
No matter how you choose to decorate your party, it's a fantastic idea to look at buying eco-friendly decorations such as biodegradable balloons/fabric bunting/paper or wooden alternatives to plastic which can be reused or recycled. Reducing the waste from your party will allow you to help the environment and also save you some money by reusing decorations in future!
A quick online search will take you to some fabulous companies who provide sustainable party decorations – a couple of examples being The Party Pirate and The Original Party Bag Company. We would highly recommend checking out these companies when planning your party, to make your decorations the best that they could possibly be!
Magical wishes, the Snow Princess Parties team x