Every child's dream is to have a Frozen themed birthday party. Whether their favourite character is Queen Elsa, Princess Anna or even Olaf, they all want the chance to meet their on-screen idol. Whenever we get a call from a parent, we always know that the chances are they will be enquiring about an Elsa and Anna party. We're not sure what it is about this 2013 film but we don't stop hearing about it!
A vital part of making any party feel magical and unique are the decorations. We have seen a LOT of Frozen themed parties in our time and we always feel it is best to go full out! This means Elsa and Anna plates, cups, tablecloths – everything Frozen! We'd also recommend going for a wintery feel with snowflakes dotted around the house/hall. It is such a sweet idea to have your children cut these out themselves prior to the party. You can use this link (https://www.youtube.com/watch?v=oCuk8E-MhdE) to show your children how to make these. This is such a fun way to make the birthday child excited for their special day.
Balloons are a party essential. There are many Frozen themed balloons that you can buy online or even in your local party shop (a great way to help out smaller businesses). It's always a fantastic personal touch to have the birthday child's name and age on one of the balloons as well.
One decoration technique that always makes a party stand out is a photo wall. These can be surrounded by a balloon arch incorporating colours such as blue, white, silver and purple. You can also have a metallic blue fringe for the perfect backdrop.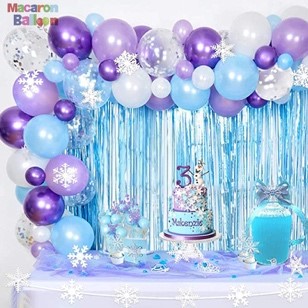 The first thing on any child's mind when they hear that their friend is having a birthday party is cake! This puts a lot of pressure on you to make sure there is enough to go around, it's picture-perfect and it actually tastes nice. Unfortunately, we are unable to wave our magic wands and make a cake appear, however, here is some advice:
If you're a DIY King or Queen, you could bake it yourself. Making a cake of your child's favourite flavour is tricky, however the decorations can be harder. Blue or white icing is always a great way to make the cake fit the theme. You could even try to do a drip cake if you are the Mary Berry of the house. If you want to keep it simple but effective, buy some Frozen figurines and place them on the cake. It's always amazing for a child to see their favourite character on-top of their cake. You can even get your children involved in the baking! Of course, it may not look quite as good as one made by a professional baker but this is a fun activity for you and the kids.
If making a big cake is a big ask, you could divert to some cupcakes! Theses can be decorated in the same way but are a lot simpler to make. You can even get Frozen themed cupcake cases! We would also recommend displaying these on a tiered cake stand.
However, you may already have enough on your plate planning a party for all of your child's friends, so you could buy a Frozen cake in store or get one made for you birthday Princess/Prince.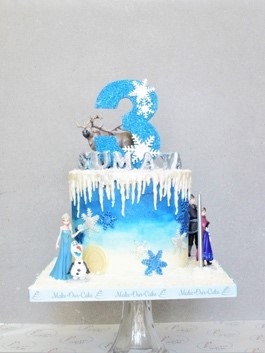 3. The Princesses (obviously!)
Of course, the Princesses are a massive part of throwing a Frozen themed birthday party. That's where we come in! We are professional princesses and we are very used to throwing these parties (having done them so many times). We know that parents put so much time and effort into making their birthday child's day as special as possible so we try to take off a bit of the pressure. We run the whole party ourselves, bringing in our own speaker system and microphones, meaning that you can sit back and relax. We make our parties as stress-free for you as possible.
Our entertainers have beautiful costumes and wigs making the character on screen come to life! You can choose to have one character come on their own or you can choose to have both Elsa and Anna. Other characters (such as Olaf) may be available too – just give us a call!
After performing at multiple parties a weekend (and most of these being Elsa), we know what kids like best! We have many games such as limbo, bubble machine, parachute games and we also have some that are Frozen themed such as snowball fights, our build a snowman game, a 'Let It Go' dance with musical instruments and an Olaf story-time. You can also add a snow machine to your party to give it that extra special touch. If you would be interested in booking a special party with us, click on your location on our website and fill in the booking enquiry form or give your Regional Director a call. Hopefully we'll meet you at a spectacular Frozen party!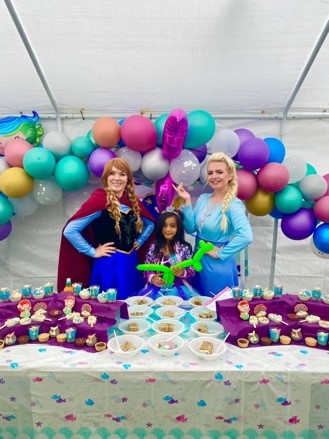 Like we mentioned before, our Snow Princess Party entertainers will be able to run all of the games and music meaning the only thing left for you to think about is the party food and the cake (and maybe some party bags as well).
We hope this will help you throw the most magical Frozen themed princess party for your little one. We look forward to hopefully coming to the party and making it a special day to remember.
Frozen kisses, the Snow Princess Parties team x