As the world adapts to life online, we have realized that whilst we cannot meet up and hug our friends and family, we can still be together virtually!
Birthdays are not cancelled! Celebrations are not cancelled! They are just different! Here at Snow Princess Parties, we have collated ten tips for hosting an UNFORGETTABLE online party!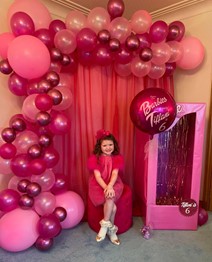 We all know by now the importance of a good zoom background, and it is no different for your virtual party. Whether you put up banners up behind the birthday girl or get some pink princess balloons, the kids will love it! You could even go the extra mile with THEMED decorations, like a life-sized Barbie box or a makeshift rock for a mermaid to laze on. This will definitely make for some IMPRESSIVE photos!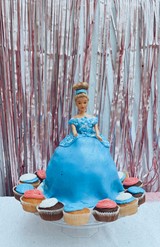 No birthday is complete without a yummy cake! You could try your hand at baking, since we are all spending so much time at home now, but buying a beautifully made cake is also a fabulous option. Either way, it would be a great idea to find out what your little one likes and make it themed especially for the party!
We have seen plenty of beautiful birthday cakes online (and get a little bit sad that we cannot try them all!)
Filling little party bags with party hats or a quick activity (decorating a crown/superhero mask to wear to the party) is a fun idea if your guests live local to you! Click here for some tiara templates! You could even add a decorative cupcake that each child can have after the birthday child blows out their candles, so they do not feel too disappointed about not getting any birthday cake!
From much experience with virtual parties, we believe the bigger the screen, the better! If possible, connect your devices to the TV or laptop for an all-round amazing experience, so the children can see their friends nice and clearly whilst still being able to dance around freely! If you are connecting your device to the TV, it is good to have the device just below the TV, so that when the little ones are dancing or talking to the birthday girl, they can still be seen by everyone!

Whilst setting up your party location, please consider what the lighting is like! The light should be in front of the birthday child and behind the camera, so that they do not look like a shadow to everyone else. You could also consider adding lamps and ring lights, or better still, why not jazz up the room and add some colorful disco lights
One of the most important things to do before the party is to CHECK YOUR INTERNET CONNECTION! You do not want you or your guests' screens to freeze, causing you to miss out on aspects of the party! Make sure your party set up is near your internet router and that other people in the house are not streaming or downloading, to make sure there is no internet crisis. We also encourage indoor parties over outdoor, to limit the possibility of disconnections!
One of the biggest perks of having an online virtual birthday party is that you can invite EVERYONE and ANYONE, from all over the world! Yes, even your Granny and Grandpa in Australia can join in and show off their dance moves! We usually recommend no more than 40 people at a virtual party, which is a perfect number for inviting the whole class and more!
Fancy Dress is one of our FAVOURITE things to see here at Snow Princess Parties; it is so much fun to see everyone dressed up as our favourite princesses and superheroes! We love it even more when the parents and grown-ups get involved too (we have seen some pretty amazing princess mummies!) Since we have to celebrate at home, there is no better excuse to get those princess dresses out of the wardrobe and have a proper ball!
Prior to your party, make sure you have a good number of games to play that are high energy and exciting! Find some dance bops that everyone will be able to join in with (zoom allows you to share your sound so everyone can hear the music) or you could even set up some games that are personalised for the birthday child, like a scavenger hunt or a mini quiz! If you are planning a slightly longer party, why not add some craft activities, like drawing a birthday cake for the birthday child?!
Last but not least, hiring an entertainer takes all of the party stress away from you and allows you to sit back and ENJOY with your child. Your professional entertainer will plan activities that are proven to keep EVERYONE engaged, creating a unique and magical experience for the birthday child! We have a range of entertainers to choose from, whether your little one is into princesses, fairies, or superheroes – we have it all! Our five-star rated entertainers have truly perfected the art of online parties in the last year, so click here if you are interested in booking with us.
FINALLY… do not forget to have fun! We try and make the whole experience as relaxing and enjoyable for parents as possible, and really encourage them to get involved with all of the party games and dances, since we know that you often end up missing out on special moments during the set up and the tidying at the end. That is one of the beauties of a virtual party: no mess! (I am sure that has sold it for you…)